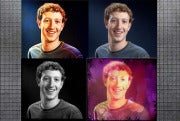 Is Facebook looking to take on popular photo filter apps like Instagram and Hipstamatic by bringing its own photo filter feature? According to some anonymous Facebook engineers quoted in The New York Times, yes.
The New York Times reports that Facebook is preparing a new photo filter feature for its mobile application. According to the Times, Facebook is looking to take on Instagram, the popular, free photo filtering and sharing iOS app. Facebook's new feature "has been ready for some time," according to two unnamed Facebook engineers, but Facebook CEO Mark Zuckerberg wants to create more filters before releasing it.
The engineers, who revealed this information to the Times anonymously, told the Times that Facebook will introduce almost a dozen photo filters, including some that are similar to Instagram. The engineers also said that Facebook tried to acquire Instagram over the summer, but failed.
Related Slideshow: Instagram Your Photos Without an iPhone
Instagram, created by Burbn, is an easy photo filter app for iOS–and only iOS. Instagram allows users to crop photos and apply cool, old-timey filters before uploading them to the Instagram photo site. Instagram also lets users share photos with social networks, such as Twitter and Facebook.
Instagram, which is a free app in the App Store, has proven to be insanely popular, with over 150 million photos uploaded in just 10 months since it was introduced in October 2010. The company currently has over 8 million users, and raised a $7 million round in funding (led by Benchmark Capital) in February.
This isn't the first rumor we've heard about Facebook's new, secret photo filter app–in June, TechCrunch reported that it had received a number of images and documents related to a new, standalone Facebook photo app. However, the Times says the new feature will be just that–a feature of Facebook's current mobile app, not a standalone app.
We've also been hearing reports that Apple's newest version of iOS, iOS 5, may have Instagram-esque photo filters. But for the moment, Instagram and, to a lesser extent, Hipstamatic, have the market cornered.