The hacking group Anonymous has waged a full-on war on BART, the San Francisco subway system, over cellular shutdowns to stifle protests. Following two demonstrations that led to temporary station closures, hacking and posting personal information of BART police officers, Anonymous has now posted naked photos of BART spokesman Linton Johnson.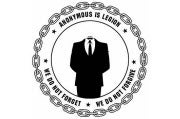 The photos depicting Johnson pulling down his pants, giving a full-frontal view of his genitals, are the latest move from Anonymous against BART, according to SF Weekly. They were posted on a website that is now unavailable (but Gawker has a teaser saved). The following message reportedly accompanied the photos: "If you are going to be a dick to the public, then I'm sure you don't mind showing your dick to the public."
Johnson was targeted because he apparently came up with the idea to shut down cell service during planned protests on August 11 over the shooting of a man by BART officers. The Bay Citizen reported that BART's board of directors approved Jonhson's idea ahead of the protest.
In retaliation for the cellphone shutdown tactic, Anonymous has staged two protests at San Francisco subway stations, hacked into BART's site and released personal details of its police officers as part of what it calls OpBART.
The group also put up on its blog a list of demands that must be met in order to stop its actions against BART. The list included calling for the resignation of Johnson and BART's chief of police, Chief Kenton Rainey, as well as to publicly apologize for shutting down cell service.
Despite criticism and an FCC investigation, BART has defended its actions as necessary for public safety. BART condemned the leaked nude photos of Johnson, and told SF Weekly: "They are not only unethical, but illegal. […] We stand by our decision to interrupt cellphone service."
Note: When you purchase something after clicking links in our articles, we may earn a small commission. Read our affiliate link policy for more details.