Apple cofounder Steve Jobs has stepped down permanently as company CEO, and many observers are asking what's next for the popular technology company now that its visionary leader is gone. Jobs was succeeded by Tim Cook, who has served as Apple's chief operating officer since 1998. Jobs, while no longer CEO, will remain at Apple as the company's board chairman.
Cook is no stranger to the CEO's chair as he has acted in Jobs' stead as interim CEO over two previous medical leaves in 2009 and 2011. The difference now is that Cook's new position is permanent, which begs the question, what's next? Where does Apple go from here? Is Cook a long-term choice for Apple or is he a caretaker meant to stabilize the company going through a transitional period without its visionary founder. How many products does have Apple have left in the pipeline with Jobs' imprint on them? Can Apple succeed without the seemingly singular, reportedly tyrannical, control of Steve Jobs?
Here's my take on what happens next.
Market realization: Apple is not just Jobs
Wall Street reacted to Jobs' resignation with a 5 percent dip in the company's stock price in overnight trading, and most critics are anticipating a further decline. When Jobs went on medical leave in 2009, the company's stock dipped by about 7 percent and Apple stock lost about 5 percent of its value this year when Jobs took another medical leave. So a decline in Apple's stock price this time around is to be expected, but before long investors will realize what most Apple watchers already know: there's more to Apple than Steve Jobs.
Apple's charismatic cofounder may be important to the company, but Jonathan Ive, Apple's head of industrial design, is also a key part of the company's product vision. Without Ive, Apple's trademark design ethos that emphasizes simplicity over complexity, and functionality and elegance over engineering would not be what it is today.
Cook's ability to lock down and improve Apple's supply chain is also a key part of the company's success. Apple is not just Jobs. Most reports are already talking about this, but it may take a while for investors to settle down and realize it, too.
Follow the playbook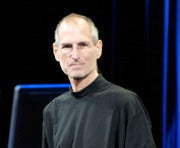 Apple takes a long-term strategy and thinks about products well into the future. Jobs admitted as much in June 2010 when he revealed Apple had been working on the iPad for years, even before the first iPhone launched. It's not clear how far ahead Apple's product strategy reaches, but it's likely the company has product plans for the next few years at least. All Apple's leadership has to do in the short term is follow the playbook.
Jobs' product influence remains
Jobs may be stepping down as CEO, but as the company's chairman he will continue to be involved in product design, according to The Wall Street Journal. That's good news for now, but his influence may become a hindrance if Jobs becomes less adept at foreseeing technology trends the more time he spends away from the CEO's chair.
Caretaker CEO or the next big thing?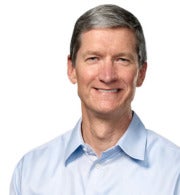 Cook's role as Apple's CEO will become clearer over the next few months and years. Is he just a caretaker CEO who can keep the company stable in its transition period. Will Cook's role remain unchanged from what he did as chief operating officer and he will continue end-to-end management of Apple's supply chain? Or does Cook have a bigger vision for the company?
Most reports so far are leaning toward caretaker, describing Cook as a great "manager" or an "operations and finance guy." That suggests Cook may only serve as company leader until Apple can find someone with a bigger vision for the company.
Then again, Apple doesn't necessarily need to look for another Jobs, an impossible goal anyway. The company may find success in the long term being run like a committee, as Daring Fireball's John Gruber recently pointed out. Under this setup, Cook remains in the CEO's chair, but final product decisions are made by senior vice presidents such as Ive, Scott Forstall and, possibly, Phil Schiller.
Identity crisis
Regardless of what happens with Cook, at some point, about 5 to 10 years from now, the current Apple playbook will run out, Jobs' influence over the company won't be as strong and Apple will have to decide where to go next. At that point, Apple will decide if it should strictly adhere to its Jobsian ethos that starts with beautiful product design, but also includes thorough attention to detail and a willingness to jettison any product that has outlived its usefulness. Or the company could maintain some of these principles, but dump others. Third, Apple could throw everything out and start fresh. The path Apple ultimately chooses depends on what happens over the next few years, how the technological landscape changes and how successful the company is without Jobs as CEO. But at some point, the company will be confronted with defining itself in a post-Jobs era.
Connect with Ian Paul (@ianpaul ) and Today@PCWorld on Twitter for the latest tech news and analysis.