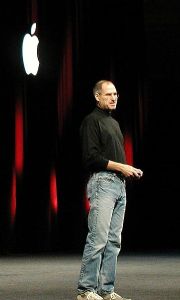 The day we knew was coming arrived. Steve Jobs, the iconic co-founder of Apple, has stepped down from the company he helped make one of today's leading tech firms. Stating he could no longer perform the duties as Apple's CEO, Jobs stepped down with Apple COO, Tim Cook, taking the reigns as Apple's new leader.
Here is a roundup of PCWorld coverage of what's next for Apple and a look at Jobs' legacy as Apple's CEO.
Jobs will stay on as chairman of the board. Apple chooses chief operating officer Tim Cook as his successor.
* Steve Jobs' Resignation Letter from Apple
* Steve Jobs at Apple: A Timeline
COO Tim Cook will take over in the wake of Jobs' resignation.
* 'Operations Guy' Tim Cook Gets Chance to Shine at Apple
* Steve Jobs' Resignation: Reaction Begins
Slideshows
Steve Jobs and Apple: The Successes and Flops
Twitterverse Weighs In on Jobs' Resignation
Analysis
Love Him or Hate Him, Steve Jobs Has Transformed Your Life
Life After Jobs: Why Apple Isn't Doomed
Who Will Drive the Tech Industry Forward Without Steve Jobs?
Steve Jobs Resigns: 5 Things to Watch For
Apple Without Steve Jobs: A Charisma Crisis
News
Apple for years rallied around its charismatic co-founder, Steve Jobs, so it's only natural now to question whether the company can retain its market dominance.
Don't Panic! Jobs Is Out as CEO, But Apple Is Still Apple
The news of Steve Jobs resignation as Apple CEO has caused many to have post-traumatic flashbacks of Jobs' last departure, and serious concern for the future of the iconic tech giant.
Quotations From Chairman Steve
Apple's former CEO, and now chairman, Steve Jobs does not think in sound bites. Reading through the wealth of interviews in his career, one is conscious of a mind working through both questions and answers, and taking little for granted.
From the Archives
Apple CEO Steve Jobs Introduces the iPad 2
Steve Jobs to Step Down Temporarily as Apple's CEO for Health Reasons (Jan 14, 2009)
In a letter Wednesday to Apple employees Apple CES Steve Jobs said he would step down temporarily for health reasons.
Steve Jobs the Comic Book Hero: An Early Look (Jun 14, 2011)
Steve Jobs' life and career have been profiled in a new comic book by Bluewater Productions
Rumors Swirl Around Apple's New Products (Jan 4, 2002)
Whether it's a flat-panel iMac or a new handheld, device announced at next week's Macworld should make waves.
Jobs Says He Has 'Hormone Imbalance' (Jan 5, 2009)
Apple CEO Steve Jobs has a hormone imbalance that is causing him to lose weight, he said in a letter posted Monday morning at the company's Web site in an attempt to squelch rumors about his health.
8 Signs You're an Apple Addict
Jubilant Jobs Touts Apple's Progress (May 10, 1999)
Given up for dead by many a year ago, Apple Computer appears well on its way to recovery, opening its annual Worldwide Developers Conference here Monday.