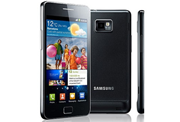 Verizon Wireless won't offer Samsung's Galaxy S II smartphone according to the Wall Street Journal, in what looks like a case of too many Droids.
The Galaxy S II, an Android 2.3 phone with a dual-core processor and 4.3-inch display, launched overseas last spring to critical acclaim, and it may be the toughest competitor to Apple's iPhone 5. Samsung will announce the phone for AT&T, Sprint, and T-Mobile in New York next week, unnamed sources tell the Wall Street Journal, but Verizon said that it's not planning to sell the handset.
"We have an extensive portfolio that offers customers a great variety of devices, including the Samsung Droid Charge," Verizon spokeswoman Brenda Raney said.
Raney didn't elaborate, but Verizon is probably passing on the Galaxy S II because the carrier's plate is full. Verizon is rumored to launch the Droid Bionic–a Motorola smartphone with similar specs to the Galaxy S II and support for Verizon's 4G LTE network–in early September, and a larger Droid HD may also be in the works. Already, Verizon sells a trio of Droids with dual-core processors: the Droid 3, the Droid X2 and the Droid Incredible 2.
In addition, a Verizon roadmap leaked earlier this month showed a September launch for a Samsung device called the "Stratosphere," once believed to be the Galaxy S II, but that may turn out to be an entirely different phone. The same document hints at new Android phones from HTC and LG in October.
So unless you're a huge fan of Samsung's TouchWiz interface, Verizon's decision to skip the Galaxy S II isn't a huge loss. There should be plenty of Android handsets for Verizon customers to choose from within a month or two.
Follow Jared on Facebook and Twitter for even more tech news and commentary.