Microsoft reportedly showed off an upcoming quad-core Windows tablet Thursday during the company's TechEd New Zealand conference in Auckland.
Self-described Microsoft fanboy and IT consultant Alan Burchill posted two photos of the device from a session with Microsoft principal architect Patrick Hevesi. Burchill's post originally said the tablet would be distributed to attendees at an "upcoming Microsoft event," but those claims have since disappeared from the post with no explanation as to why, according to ZDNet's Mary Jo Foley. Microsoft's BUILD conference is scheduled to begin in about two weeks, on September 13.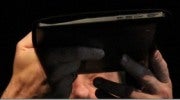 Specs were not released for the mystery quad-core device, and the photos shed little light on what the device might be like. Burchill's images show what appears to be a thin tablet with two switches on one side. It's unclear who the manufacturer of the purported quad-core slate is, or which processor it uses.
During a video interview prior to his session at the conference, Hevesi added a few details about upcoming quad-core Windows one-panel tablets. One quad-core slate Hevesi mentioned but didn't show in the video — which may be the one he later showed off — was said to be ultrathin and look very iPad 2-ish, with a 1080p HD screen, 8 hours of battery life, and a Windows 7 interface. When the tablet might be released remains to be seen.
Microsoft Two-Step?
Microsoft may be backtracking on Hevesi's slate sneak peek now that North American media has picked up on the news. The video with Hevesi has disappeared from Microsoft's TechEd New Zealand site, but a Google cache verified that it was there a few hours ago. The good news is that you can still watch Hevesi's interview online, at least for the time being. Why Microsoft would pull the video from its TechEd New Zealand site isn't clear. It may be a technical glitch, or perhaps the tablet sneak peek ran afoul of a nondisclosure agreement. Microsoft has not responded to a request for comment. (Update: Microsoft declined to comment on the reports.)
Quad-Core Tablet Explosion
Quad-core tablets are expected to be all the rage in the coming months. Nvidia said in May that it expects to see Android tablets using its quad-core ARM-based Kal-El chips by September.
Qualcomm and Texas Instruments are also making quad-core ARM chips for tablets; Texas Instruments in June announced the OMAP4470 for tablets designed to work with Windows 8.
But don't expect any of those chips to be built into the mystery Windows 7 quad-core device Microsoft was showing off. Windows 7 currently works only with Intel's x86 chip architecture, and not ARM; that will change in Windows 8, when Microsoft releases its next OS for x86 and ARM chips.
Connect with Ian Paul (@ianpaul) and Today@PCWorld on Twitter for the latest tech news and analysis.