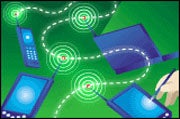 Unlimited data plans are going extinct, and users are wondering how they can avoid paying higher fees for their Web-surfing and Facebook-checking habits. In July, Verizon Wireless became the most recent carrier to switch from $30-per-month "all you can eat" data pricing to tiered data pricing. To see what effect the move to tiered pricing is likely to have on everyday users, we asked ten subscribers with smartphones to look at how much data they've been using per month for the past few months. Most of the respondents found that they hadn't been exceeding the 2GB data cap; but the larger their phone's screen was, the more data they tended to use, simply because those phones do a better job of streaming video and audio, and are easier to use for recreation and for checking email.
For now, if you're already a Verizon customer with a data plan, you can keep the unlimited-data provision of your contract until you upgrade to a smartphone from a feature phone. Even then, you can keep your $30-per-month plan, but you'll pay extra if you use more than 2GB per month.
At the moment, it appears that most smartphone users don't consume more than 2 GB, meaning that most Verizon customers won't see a change in their fees under the new plans. But as phones get bigger screens, 4G networking capabilities, 3D gaming systems, and other features in the near future, many people will be tempted over the 2GB line by the improved experience.
Watch Your Data Usage
How much data do regular people use on their mobile devices each month? We informally surveyed 10 Verizon customers (including me) who have smartphones and asked them to report their data usage for the past three months. Most of them didn't exceed their data cap, and none exceeded it by more than 1.5GB. On average, the ten customers expended 1.19 GB of data per month–hardly enough to cause any worry.
Ada Tso, an assistant for a policy research organization based in the Bay Area was our "most average" data user: She used 1.17 GB per month on her Droid Incredible 2, primarily for email, though she also used her phone to search the news and to check out Facebook and Twitter.
People in our survey whose phones had relatively small screens used considerably less data than people whose phones had bigger screens. So if you're under the 2GB limit now, don't be too confident that you'll stay there if you buy a newer phone with a larger screen and faster data service.
The two respondents in our survey who rely on BlackBerry phones used the least amount of data: less than 50MB per month. The BlackBerry's small screen and physical keyboard make it more utilitarian than most other smartphones–people use their BlackBerrys primarily to check email, and they don't stream video on older models.
But that doesn't mean that the BlackBerry users wouldn't run through more data if they could. Virginia Clifford, a credential student at Cal State University Long Beach, was one of our higher-volume data users, reporting average consumption of 2.5GB per month. "I have an iPhone and can tell you I use way more data now than when I had a BlackBerry," she said.
Under tiered pricing, Verizon Wireless now allots 2GB of data for $30 a month (the price that customers have grown used to paying for unlimited data), 5GB for $50 a month, and 10GB for $80 a month. But for users like Virginia, the best plan of action isn't to shell out $50 a month to jump to the next level of data pricing. Since Verizon charges an overage fee of $10 per GB over the subscriber's monthly allotment, it's cheaper for her to stay at the 2GB per month rate and pay the overage fee, as long as her amount of overage doesn't exceed 1GB, since she'll be charged $40, instead of $50 for the 5GB plan. Of course, the bad usage zone for Virginia if she sticks with the 2GB tier would be anything over 4GB: A 4.5GB usage month would cost her $60 in base cost plus overage fees, whereas it would cost her only $50 if she were in the 5GB tier.
Gauge Your Data Use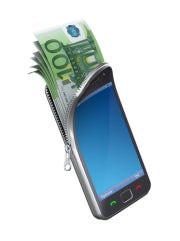 Data is a nebulous thing for the average consumer to measure–it's not like watching your minutes add up while you're on the phone, because there's no easy way of knowing exactly how much you're using at any particular time. But some useful rules of thumb apply: Video and online gaming apps will cut into your data allotment quickly. Use mapping and navigation apps sparingly.
For an immediate snapshot of how much data each app is using, download the Bandwidth Monitor app for Android, which will tell you how much data each of your apps is using. Of course, if you shut down the app or turn off your phone, Bandwidth Monitor will restart its measurements from zero, so it's not a good way to see how much data you're using per month. But it can help you identify apps that are particularly data hungry.
In addition, you can usually track your data use with your carrier online when you're logged in to your account, or you can call your carrier and ask it to provide the numbers for your previous three months of data usage (since a single month may not be typical, due to significant month-to-month swings in data use, a three-month window provides a better view).
Use Your Phone but Don't Pay for Data
All of this talk about data use refers to carrier-supplied data only. But your smartphone can certainly connect to Wi Fi, and you get that data for free–as long as the Wi-Fi is free. So if you're at a friend's house or in a coffee shop that has Wi-Fi, connecting that way can help you reduce your billable data usage.
If you use more than 5GB of data a month, it might be worth your while to consider moving to Sprint, which is the last of the major carriers to offer unlimited data. Sprint promises users unlimited text and voice for $70 a month, but it's a good deal only if you're a heavy data user.
In any event, you may want to hurry if Sprint is in your future. History suggests that bringing the iPhone to a carrier's network predicates a move from unlimited pricing to tiered pricing, and the Wall Street Journal reported earlier this week that the iPhone 5 might find a home on Sprint's network this fall.
AT&T was the first network to get the iPhone and the first network to used tiered data pricing. Soon after the iPhone 4 came to Verizon, the network announced that it too would instate data tiers, so when the iPhone moves to Sprint you can expect tiered data pricing to become the status quo for smartphone users.
[Correction: We erroneously reported that if you're already a Verizon customer with a data plan, you can keep the unlimited-data provision of your contract until you get a new smartphone. In fact, if you upgrade to a smartphone from a smartphone with Verizon, you can keep your unlimited plan–for now.]