At a Glance
Expert's Rating
Pros
Generous default storage and attachment size
Look and feel consistent with Office
Excellent file fidelity with desktop Office files
Cons
Poor mobile performance aside from Windows Phone 7
Limited sharing and collaboration options
Our Verdict
Office 365 has a familiar look and feel, and great integration with the desktop Microsoft Office. It also offers additional tools that make it a leading choice for organizations seeking an online productivity suite.
Best Prices Today: Office 365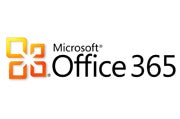 Microsoft Office 365 is the company's answer to online productivity suites. A replacement for Microsoft's Business Online Professional Services, Office 365 includes online versions of Word, Excel, PowerPoint, and Outlook, as well as Lync and SharePoint. Together, these comprehensive and powerful online office tools represent the best overall value you can find today.
Office Apps
If you are familiar with Office 2007 or Office 2010, you'll feel comfortable working in Office 365. The Web incarnations of the Office apps have stripped-down versions of their respective Ribbons, but the overall feel is the same, and the core features are present.

Office 365 offers a more diverse selection of fonts and formatting styles than either Google Apps or Zoho Docs does. More important, those fonts and styles will align with the ones available in the desktop Office programs. You can open the Web apps within the appropriate desktop program with the click of a button, and the desktop Office suite can save files to the online storage so that you can access them on the go through the Web apps.
The spreadsheet app is the weakest link here. Although the Web-based tools are sufficient for basic needs, they lack many advanced features. Even so, Office 365's spreadsheet beats rivals in look and feel (especially for users familiar with the Excel 2010 desktop software), as well as in macros and formulas.
Compatibility
When it comes to document fidelity–maintaining formatting consistency from a Microsoft Office program to a cloud-based equivalent and back again (or vice versa)–no online productivity platform is perfect.
As you might expect, though, Office 365 beats out both Google Apps and Zoho Docs in this department. You won't necessarily be able to add or edit many of the more advanced formatting elements from the desktop Office tools (such as footnotes, headers, or a table of contents), but you can view them, and at least they won't screw up.
Sharing and Collaboration
Office 365 provides some real-time collaboration capabilities in Excel and OneNote, but not in Word and PowerPoint. Microsoft recently rolled out a coauthoring function for the Word Web App, but it works only when you're sharing files from the Windows Live SkyDrive file storage service, and when you're using the Word Web App; it doesn't work with Office 365.
However, Office 365 handily makes up for the lack of native collaboration within documents by making it easy to set up an online whiteboard session through its Lync Online service. With Lync Online, you can share and collaborate in real time on any item on your desktop. External contacts can join online meetings using the Lync client application, or a Web-based client.
Files and Storage
Among Google Apps, Office 365, and Zoho Docs, Microsoft's offering stands tall, as this suite provides the most storage space by default. The basic Office 365 plan gives you 2GB of data storage space on SharePoint Online; additional space costs $2.50 per gigabyte per user per month. For email, each user has 25GB, the same as Google Apps, on the entry-level plan–but higher Office 365 plans have unlimited email storage. Office 365 also has the biggest file attachments allowed, at 35MB.
With SharePoint Workspace, you can sync data from Office 365 SharePoint Online for offline access.
Price
Office 365 has a variety of plans for companies of different sizes and needs. The plan comparable to what Google Apps and Zoho Docs each provide is $6 per user per month (price as of August 26, 2011). Office 365 offers slightly more features and capabilities than the other two, so the additional dollar per user per month seems justified. When you start looking at the more advanced–and more expensive–choices from Microsoft, though, it becomes harder to make a direct comparison.
For an extra $15 per month, Office 365 users can also get the license to download the desktop Office 2010 Professional suite. At $21 per user per month, this is a significantly more costly path than the Web-only products. However, it adds functionality lacking in the Office Web Apps, and it allows users to be productive even when no Internet connection is available.
The Office 2010 Professional suite costs $410 at Amazon, so the $252 per year for the bundled online package is a short-term savings; it will cost more in the long run when that $252 becomes $504 over two years. The value of this package depends on how long you plan to use the Office 2010 suite before upgrading, and on how much benefit you will receive from having the added functionality of the desktop suite.
Conclusion
Office 365 is the clear winner among online productivity suites. It isn't the cheapest, but arguably it provides the best overall value. The core productivity tools in Office 365 have the best compatibility with desktop Microsoft Office software, and the addition of Lync Online and SharePoint Online supplies additional capabilities that are well worth the extra investment.