At a Glance
Expert's Rating
Pros
Handy cloud-storage feature
Works quickly
Cons
Marginal performance with mixed-graphics documents
Terrible interface
Our Verdict
This powerful OCR program offers useful capabilities, but its presentation and interface spoil the experience.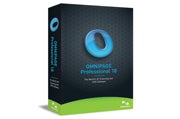 Nuance OmniPage Professional 18 provides a powerful means of converting a scanned document into an editable file. But this optical character recognition software ($500 as of August 27, 2011) is saddled with an interface that's so tortured, the program makes CAD software seem easy to understand by comparison.
Even after reading (and rereading) the instructions, I found myself struggling to understand Nuance's intended workflow–or workflows, really. If you decide to follow one of Nuance's workflows, you must select one from a drop-down list of 13 different options, and some are very similar. For example, you can go with 'camera image to [Microsoft] Word', 'camera image to Excel', or 'camera image to searchable PDF', or you can choose 'PDF or scanned document to PDF', or 'PDF or scanned document to searchable PDF'. But wouldn't it be easier just to supply a source button and an output-format button?
Many operations in the application happen in discrete windows. For instance, to specify areas of a document that contain graphics, text, or tables, you use a Page Image window, with its own commands; to edit the text of a processed document, you must work in the Text Editor window. To clean up graphical elements, you must click an Image Enhancement icon in the Page Image window, and it pops up a child window (a window that you can't access any other way). The same icon appears in the child window, too, but clicking it there pops up the Help dialog box.
The application is rife with inconsistencies. You can find standard undo and redo commands under the edit menu (or in keyboard shortcuts) when you're in the application's main window–but they disappear if you're using certain modes within the application, such as the image enhancement mode, where you're expected to click a reset button to start over if you don't like the results of your edits. And the OCR Proofreader tool, which you use for accepting and rejecting recognized text, has no undo function.
Keyboard and mouse shortcuts for zooming don't work in OmniPage Professional 18. One window has zoom icons, but another important window does not; you can access a zoom command via right-clicking, but only in certain areas.
Those examples are only the beginning. Ultimately the interface will get the job done, but at times it confuses and confounds–something one wouldn't expect on version 18 of a product.
Let's Document That
All of that might be forgiven if OmniPage Professional 18 were to excel at its main function: optical character recognition. The application's success depends on the type of document (of course). But I found that it also depends on what you're using to scan your documents.
I scanned a slew of different documents using my Canon CanoScan 9000F, with varying results. Nuance claims a 67 percent increase in layout accuracy and an 18 percent increase in character accuracy–and I was impressed by the accuracy that OmniPage 18 was able to achieve with an old, multilanguage manual (for a tripod) composed of mangled French-to-English translations, mostly in 7-point type (OmniPage can recognize text in several languages, though it won't translate for you). Only a couple of text errors cropped up, but the software also made a column more narrow than it should have been, causing some text overflow in the resulting document. The problems were easy to fix in Microsoft Word.
Scanning a Comcast bill with plenty of graphics and logos proved more challenging, though, especially when I set aside the scanner and tried using my Motorola Droid smartphone's built-in camera to capture an image of the bill. Text boxes overlapped or cut off, fonts in the same area were mixed, and some sentences simply came out wrong: 'contact us at vamoomosatoom' instead of 'Contact us: @www.comcast.com', for example.
Nuance touts new scanner-enhancement tools that are supposed to improve the quality of poorly scanned images and even whiteboard content; you can use a new Whiteboard Enhancement tool in the Image Enhancement window, but I didn't get much improvement in OCR accuracy after applying it (though it did make my bill's background look much nicer). On the other hand, I was able to use some of OmniPage's other tools to deskew a document and make other adjustments prior to its OCR scan, and that significantly improved the accuracy.
Got My Docs in a Cloud
Nuance Cloud Connector is a new feature that allows you to save and retrieve documents via many assorted cloud-storage services, including Box.net, EverNote, Google Docs, Windows SkyDrive, and 20 others. I set it up with my Google Docs account, and it created a lettered drive on my computer with my Google documents in it for easy access (and not just from OmniPage). Within OmniPage, you can open a document in the cloud, perform OCR on it, and save it back to the cloud; because of the lettered-drive structure, the procedure is just like using a folder on your own hard drive–as long as you have a persistent Internet connection.
Another new feature, called eDiscovery Assistant, can batch-process PDFs to make them searchable, without destroying annotations. I found that it works well, and speedily, if you're careful about which options you choose. For instance, you can elect to open the PDFs after the application is done processing them, but I made a bad move in choosing this option on a folder of 160 PDFs. Once the application began, I could not stop it, and I couldn't do anything else until it was done processing all 160 documents–even when I tried invoking Windows Task Manager. I now think that the option to open the PDFs should probably not be present in this feature.
Recognize This
While OmniPage Professional 18 has many powerful features that mostly work as advertised, the program needs some major streamlining and cleanup. Considering its intended purpose, I don't expect it to be immediately accessible to beginners–but it shouldn't require the assistance of an IT staff to use, either. If you do decide to check out the application, be aware that the company sells a $150 version that lacks some functions; for more, see the features comparison on Nuance's site. The company does not offer a trial version of OmniPage Professional 18.