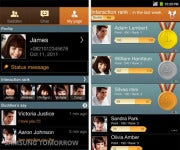 Samsung will link its Android phones and tablets to iOS devices and BlackBerry phones with a new messaging service called ChatOn. The service will be free and aims to compete with the popular BlackBerry Messenger (BBM), and Apple's upcoming iMessage service.
ChatOn is set go live in September in over 120 countries across 62 languages, and its main advantage would be cross-platform compatibility, including iOS, Android, Bada (Samsung's own mobile OS), BlackBerry, and a Web client for computers. It's unclear whether ChatOn will have a Windows Phone 7 client.
Samsung even added its feature phones to the ChatOn mix, albeit with limited functionality in the text- and image-sharing features. However, Apple's iMessage will work only between iOS 5 devices, while BBM is currently reserved for BlackBerry devices, with rumors of Android and iOS expansion. Google also has its own Talk client for Android devices and computers only, and is working on a competing service.
On smartphones, ChatOn won't be limited to one-to-one image and text sharing. It will include group chat and messaging, as well as video and voice messages and contact, location, and calendar sharing.
The video preview of the service shows a social layer added to ChatOn, with user profiles (and Facebook-like wall posts) and interaction ranks. There are also Animation messages, which are a combination of text scribbles and audio, and the Trunk feature, which is like a repository for files shared across a user's ChatOn messages.
Samsung said ChatOn will roll out gradually across devices from September, and the apps will be free to download.
Follow Daniel Ionescu and Today @ PCWorld on Twitter