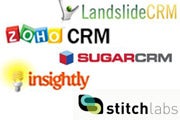 Customer relationship management (CRM) programs have a bad reputation for being overly technical, burdensome to implement, and a chore to use. This can certainly be true of some services, especially for owners of small to medium-size businesses who lack the funds or resources to customize the CRM properly to meet their company's needs. Salesforce, for example, is popular but not necessarily lightweight or easy to get off the ground.
But a number of CRM programs can help you manage your company's growing data files, without requiring hours of setup or expensive visits from your IT consultant.
We've rounded up five CRM programs to see which ones provide the combination of horsepower and usability that marks a great CRM. These tools live on the Web, so you can access them via Web browser from nearly anywhere, regardless of your OS.
Zoho CRM
(Free for up to three users; $12-per-user-per-month Professional and $25-per-user-per-month Enterprise packages also available)

The closest to Salesforce in power and scope, Zoho CRM offers a solid platform for managing customer support, opportunities, inventory, leads, and marketing efforts, including email campaigns that you can launch from within the service itself. Zoho CRM has a bundle of features, including word processing, database functions, collaboration, and project management. In addition to what comes as part of the program, you can purchase third-party applications to meet nearly any company need.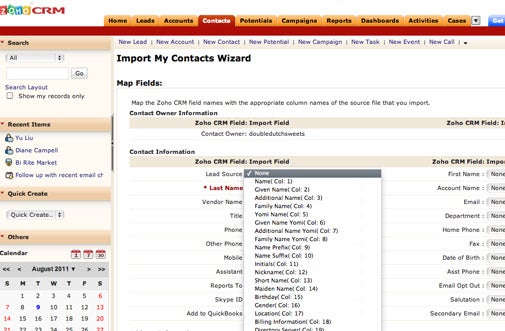 In my view, the best function of the program is the ability to track your email communications without having to CC or BCC each outgoing email message to a Zoho CRM email address. Instead, you send email from within Zoho CRM, using POP3. If you're willing to give up the native client for your email provider, this arrangement is a pretty good way to keep your email conversations organized.
Alternatively you can purchase the Zoho CRM Plug-in for Microsoft Office Outlook; for $3 per year per user, it allows you to synchronize contacts, calendars, and tasks between the two programs. You can also find plug-ins for syncing Zoho CRM files with QuickBooks.
For all its feature-richness, however, I found Zoho CRM difficult to set up and implement. Like many small business owners, I wear many hats, and though I am fairly knowledgeable about technology, I had trouble figuring out where to get started with Zoho CRM.
The program relies heavily on jargon to describe features and functions, and this can be disconcerting if you're unfamiliar with CRM concepts. For example, in the process of importing my contacts from Google Contacts, the program asked me first to map the Zoho CRM field names with the field names of the CVS file that I had generated from Google Contacts. Unfortunately, most of the options Zoho offered were field names I had never encountered while using Google Contacts. My best guess resulted in successfully importing only 7 of my 869 Google Contacts.
Pros: Full-service CRM with great breadth and feature-specific support; wide variety of third-party apps; iPhone-, iPad-, and Android-compatible; dedicated mobile website; low cost
Cons: Difficult to set up and maintain for first-time CRM program users
Use if: You want a full-service CRM, and you're already familiar with CRMs; or if you have access to support staff who can set up and maintain Zoho CRM for your company.
Landslide
(Starting at $29 per user per month for up to five users, with $49 and $79 options for additional users and features)

With a great combination of features and support, Landslide blew its competitors away in ease of setup and use. Landslide provides both a giant 'Help Me Get Started' button on your homepage and a 'Getting Started Checklist', as well as personal outreach from a sales team member to ensure that your transition to Landslide is smooth. Within minutes of signing up for an account, I had received email from Landslide inviting me to biweekly webinars to learn more, as well as contact information for a live human being.
When choosing a CRM tool, give the user experience just as much weight as the major features. I always find that I have fewer hours in the day than tasks to do, and I would gladly pay a little extra or do with fewer embellishments, if the resulting program were easier to use.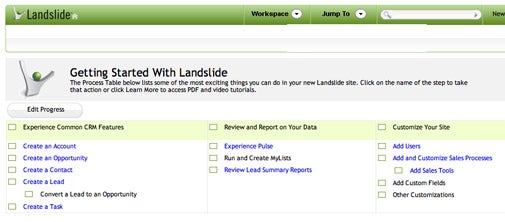 Landslide's help section distinguishes between feature support and setup support, which is enormously useful when you're just learning the program and don't yet have specific features-related questions. Like many of its rivals, Landslide offers ready access to a sales team that can walk you through the program. But for users who'd rather tinker around on their own than call technical support, Landslide's smart, well-designed FAQ system is a lifesaver.
Though Landslide's main selling point is its user experience, this CRM doesn't skimp on powerful features. It is the only service in our round-up that offers syncing with Google products, including email, contacts, and calendars. In addition, you can sync your Landslide data with data in QuickBooks and in Microsoft Outlook (including email, contacts, and tasks). In running your business, you may have built various management systems (including QuickBooks) into your workflow, and you can't readily abandon them every time you discover something new. One Landslide's many positives is that it fits into an existing framework developed around other programs.
Particularly for CRM newcomers who are unfamiliar with the terminology but who still need a program with features approaching those of Zoho CRM, Landslide is a great, cost-effective option.
Pros: Full-service, feature-rich CRM program; easy to set up and use; syncs with QuickBooks, Google apps (including email, contacts, and calendar), and Microsoft Outlook; iPhone-, iPad-, and Android-compatible; dedicated mobile website
Cons: Relatively high price
Use if: Usability is very important to you, and you want a full-service CRM program.
SugarCRM
(Starting at $360 per user per year; $540 Corporate, $720 Enterprise, and $1200 Ultimate options also available)

A full-service CRM program that offers easy setup and generous technical assistance, the open-source SugarCRM also has extensive third-party applications and plug-in support.
The main quality that distinguishes SugarCRM from Landslide is its community of developers. Since it's open source, users can change SugarCRM without limitation and can build on existing extension projects in any way they want. If this kind of flexibility appeals to you, SugarCRM is a solid alternative to Zoho CRM and Landslide.
One potential usability issue is that SugarCRM encourages you to assign dollar figures and percentages to everything–accounts, opportunities, leads, and contacts. If you operate in an industry where accounting for new leads with a monetary amount makes sense–say, for making bids for construction contracting–this is a good program for you. But in my business, when I'm exploring a new contract with a major retailer, it doesn't make sense to attribute a dollar amount to that relationship until I have a decent amount of sales history to evaluate.
Pros: Very flexible; iPhone-, iPad-, and Android-compatible; dedicated mobile website; syncs with Lotus Notes, Microsoft Outlook, and QuickBooks; good technical support; access to open-source extension applications
Cons: Not suited for every kind of business; relatively expensive
Use if: You want a super-customizable CRM program with great growth potential as your company expands.
Insight.ly
(Free for up to three users and 200MB storage)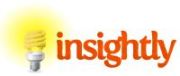 The final two CRM programs in this roundup are niche applications that can help you manage components of your customer relationship system, but lack the major touchstones of a traditional CRM tool.
Insight.ly, a Google Apps add-on, offers complete integration with the Google family of products, including Contacts, Docs, Calendar, and Gmail. If you run your business in Google Apps (as I do mine), you won't find better Google Apps integration with any other CRM program.
With full email integration, Insight.ly can provide a complete history of a customer's interaction with your company. The program frees you from performing the tedious task of importing all of the relevant messages, tagging each one, and filing it under the correct contact information for each customer. As Gmail conversations indigenously display in conversation mode, with replies from and forwards to third-party recipients included in the same conversation stream, other CRM programs can have trouble to identify which email message to file with which contact. And because email tracking is a CRM feature that you have to go all in on or not use at all, bad email-tracking support can create many extra, unnecessary hours of work.
Another great feature of Insight.ly is the option to establish relationships between contacts and organizations, and other contacts. Though you can do this in all full-service CRM software by adding a special note in the contact field, Insight.ly provides a customizable list of common relationships (such as employee/employer, parent/child, spouse/spouse, provides services to/client of) that you can associate with your various contacts. You can also link related items, such as employees with employers, email messages with projects, and tasks with opportunities, which makes recalling that information later a breeze.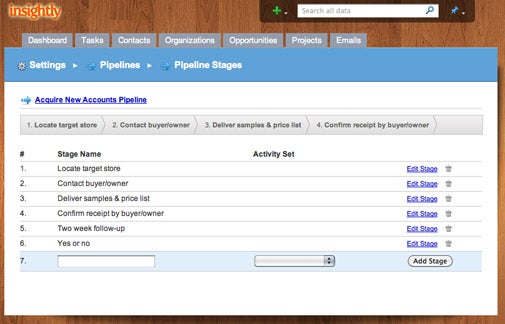 The most useful feature I found was the capability in Insight.ly to create Pipelines, a linear set of steps that you frequently repeat with new projects or opportunities. For example, every time I approach a new retail store to carry my product line, I scout out the location, identify and contact their confections buyer, drop off samples, and schedule two follow-ups. With Pipelines, I can detail each stage, save it as a pipeline, and associate that pipeline with every new entry in the Opportunities section. Each stage in a pipeline can also have its own set of actions associated with it, which Insight.ly calls an Activity Set. In small business, employees often work independently with little oversight. This feature will allow you to streamline common tasks and stages of progression among all of your employees without creating additional work for you each time.
Pros: Excellent project management and business productivity tool; seamless Google Apps integration; very usable interface; price
Cons: Does not include marketing campaigns or reports; lacks many key CRM features; no iPhone, iPad, or Android app; no dedicated mobile website
Use if: You like the Google Apps interface, your business needs don't warrant a full-service CRM, and you want something that requires minimal setup time and maintenance.
Stitch Labs

(Starting at $12 per month for one user, with $24 Group and $79 Business plans also available)
Startup Stitch Labs has created a seamless program designed for small businesses that make and sell products. That means you, independent clothing designer/confectioner/master widget maker. If your company builds something, Stitch Labs can help you keep track of your orders, customers, and inventory.
The program is incredibly intuitive and easy to use, and it was created with manufacturers in mind. For each order you enter, Stitch Labs prompts you to complete an invoice (which you can email or save as a PDF) and then collect the payment, generate the packing slip, and ship the package. Stitch Labs also reminds you when you have outstanding invoices or packing slips that you've forgotten to include.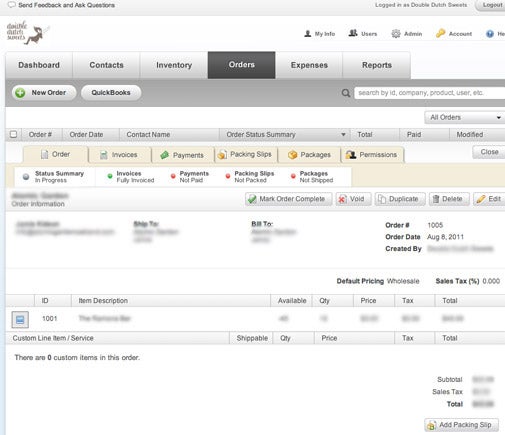 Under its Inventory tab, Stitch Labs provides a painless way to input all of the permutations of each product you offer. You make the same T-shirt in five sizes, ten colors, and three collar options? No problem. You can enter all of that information on the same page. You can also calculate your profit margin for each product by entering in your cost of goods sold, and then run a series of other easy-to-understand reports.
Two functions I wouldn't use in Stitch Labs are its expense-tracking system and QuickBooks portability. Stitch Labs isn't going to replace QuickBooks for me because it just doesn't do enough. Why enter expenses in Stitch Labs that I'd have to duplicate in QuickBooks? The QuickBooks portability function is a nod in the right direction, but it's too clunky to use in real life. When I imported data from Stitch Labs into my QuickBooks file, it created duplicates in my Chart of Accounts. In addition to my Accounts Payable, there appeared next to it "SL-Accounts Payable." Nobody needs two Accounts Payables.
Pros: Great system for managing customer orders and inventory; easy-to-understand reports
Cons: No email tracking, leads, opportunities, or task management; no iPhone, iPad, or Android app; no dedicated mobile website
Use if: Your company makes and sells products (as opposed to providing services), and you have some other way of managing your customer information.
Which CRM Service to Choose?
If you're in the market for a full-service CRM program–that is, a program that provides a wide range of business development services, such as marketing deployment and analysis, reports, and accounting integration, in addition to your basic CRM features–you can't go wrong with Zoho CRM, Landslide, or SugarCRM. Niche applications such as Insight.ly for Google Apps and Stitch Labs work great to streamline your business workflow if you already have another contact and task-management system in place
Shiyuan Deng is the owner of Double Dutch Sweets, an Oakland, California-based confections startup specializing in hand-crafted candy bars. You can find her on Twitter at doubledutchyum and on Facebook.