Network-attached storage boxes are commonly sold already preconfigured with drives, but many companies offer the option for you to build your NAS up yourself. These storage manufacturers sell their NAS devices bare, so you can populate them with the capacity and types of hard drives you prefer.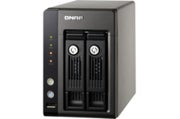 Adding your own drives sometimes requires a modicum of skill with a screwdriver, but it also allows you to put to good use any SATA hard drives you may have lying around, to go with a brand or model of hard drive of your choosing, or to take advantage of the current lowest prices on hard drives. (Typically, rolling your own will save some dough over buying a box preconfigured.)
All current and recent NAS enclosures use SATA. You can still find the odd plain-ATA unit, but they're increasingly rare, and we recommend avoiding them. Most NAS boxes offer USB 2.0 ports for transferring data from flash or external hard drives, or for sharing printers across the network. More-expensive units offer eSATA and dual ethernet connections to increase speed and provide access if one connection fails, as well as faster CPUs and better performance. USB 3.0 is just now starting to hit NAS enclosures; the Iomega StorCenter px6-300d was the first to offer this feature.
Software is another major differentiator among NAS boxes. NAS boxes run a version of Linux that you access and administrate via a Web browser. How much functionality is built into the software on the NAS varies dramatically from company to company. Products from manufacturers such as QNAP and Synology are closer in capability to a small-business server than to a simple storage device, with built-in memory and a dedicated CPU. They offer website hosting, HTML-based multimedia access across the Web, video surveillance, syncing with other NAS boxes across the Internet, and a number of additional advanced capabilities. Many small businesses would be far better served by a top-notch NAS box than by a full Windows PC-based server. Meanwhile, remote access is a common capability among NAS boxes for home and office, as is media streaming (including the ability to act as an iTunes server).
Whichever box you choose, don't overbuy. Units vary drastically in speed, features, hardware, and price, but all of the ones reviewed here can serve multimedia across a home network, having the software to do so. We looked at five boxes, one each from D-Link, Patriot, and QNAP, and two from Synology, as follows:
Note: When you purchase something after clicking links in our articles, we may earn a small commission. Read our affiliate link policy for more details.