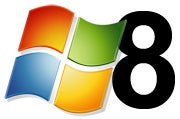 Details about Windows 8, Microsoft's newest operating system expected in 2012, have been leaking out thanks largely to Microsoft previews and a stream of blog posts on the company's Building Windows 8 blog.
The new OS is said to be Microsoft's biggest Windows refresh since Windows 95, when desktop PCs reigned supreme and most laptops cost nearly $3000. Now, Microsoft wants to update Windows for a consumer technology world that is obsessed with online services and touch-centric devices such as the iPad and Android smartphones.
Windows 8: TL;DR* (*Too Long; Didn't Read)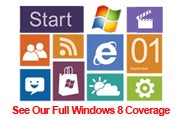 So far, Microsoft has detailed a brand new touch interface for Windows 8 with the traditional desktop UI hiding underneath. The new OS also will run on both ARM and Intel processors, opening up a range of Windows 8-powered devices such as desktops, laptops, and tablets.
Windows 8 also is expected to have an OS X-style Mac App Store, and should include further integration with Microsoft's growing range of online services such as SkyDrive, Office 365, and the free Office Web apps. Other improvements include USB 3.0 support and an overhauled version of Explorer, Windows' file management tool.
Here's a look at everything we know so far about Window 8.
Get in Touch With Windows 8
The most dramatic change for Windows 8 is Microsoft's emphasis on a new Windows Phone 7-inspired touch interface. Windows 8's new start screen has large panels that are ideal for touchscreens, but that also can be manipulated by a mouse.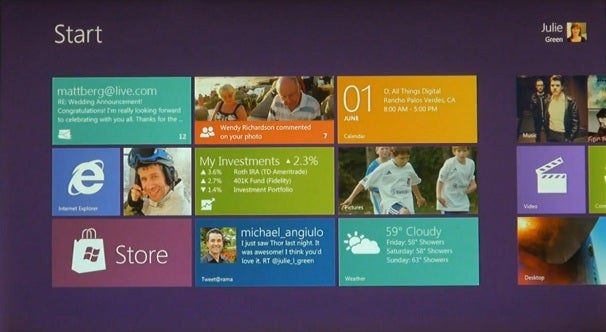 The traditional Windows interface with the start button, task bar, and desktop is still available and will come up any time you load a legacy app such as Microsoft Excel 2010. You can also run new Windows 8 touchable apps alongside traditional Windows apps. Microsoft said HTML and JavaScript will be the primary development language for new Windows 8 apps.
ARM and Intel
Windows 8's touch-centric interface may give traditional mouse-and-keyboard desktop fans the chills, but the new UI could help Microsoft compete in the tablet arena. Starting with Windows 8, Microsoft will design its operating system to work not only with Intel's x86 chip architecture, but also with ARM processors. ARM chips are very popular in the mobile device market and should help Microsoft's partners put Windows 8 on a range of so-called post-PC devices such as tablets.
The big question, however, is whether people will be willing to give ARM-based Windows devices a chance. Apple's iPad is the most dominant device in the new generation of one-panel touch tablets. And the consensus among critics and device makers is that people are looking for slates running mobile operating systems such as iOS, Android, and the QNX-based OS on the Blackberry PlayBook. Can Microsoft succeed in the tablet arena by offering Windows with a new touch overlay? I guess we'll find out in 2012.
App Store
You can expect to see an integrated app store in Windows 8 that should let you download new software for your device with just one click. Earlier in August, Microsoft revealed on the Building Windows 8 blog the details of various engineering teams working on the new OS, and the list included an "App Store" team. It's not clear what the app store team is working on, but chances are it will be a product similar to the Mac App Store available for Mac PCs running OS X 10.6 (Snow Leopard) and 10.7 (Lion).
App Preview
Speaking of Apps, some Microsoft partners are already hard at work designing touch-based apps for Windows 8 tablets. ZDNet uncovered a purported early design for a USA Today Windows 8 app that has a very Metro UI look and feel to it.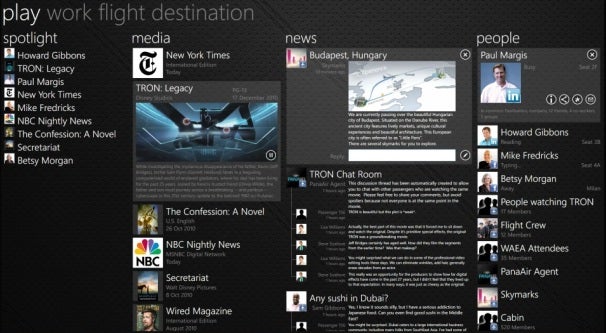 Another Windows 8 mock-up shows an app presumably designed with in-flight entertainment consoles in mind that offers access to news, weather, and videos.
Clouds in Windows 8
Also part of Microsoft's list of Windows 8 engineering teams was a group called "Windows Online." It's not clear what that team might be doing, but there are a large number of online services that Microsoft could integrate into Windows 8, such as Office 365, Office Web Apps, Windows Live and Azure. Some integration with these so-called cloud services already exists, but there are still annoying shortcomings in Windows such as an easy way to mount your SkyDrive as a local drive accessible via Windows Explorer. Dropbox can do it, so why can't Microsoft?
USB 3.0 Support
USB 3.0 promises data transfer speeds that are up to 10 times faster than the current USB 2.0 standard, and USB 3.0 also uses less power than its predecessor. You can already take advantage of speedier USB 3.0 ports in Windows 7 thanks to third-party drivers. But starting with Windows 8, Microsoft plans on including native support for USB 3.0.
Windows Explorer: File Management Basics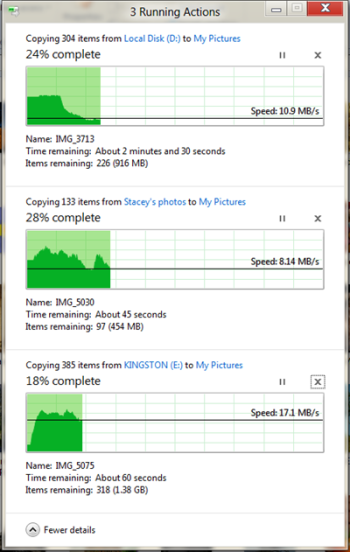 Microsoft has spent a fair amount of time recently talking about its overhauls to Windows Explorer for the next iteration of Windows. The new Windows Explorer will improve its file management basics such as copy, move, rename, and delete functions, which make up 50 percent of Explorer's usage in Windows 7.
The new interface puts all your basic file management functions into one window instead of having separate windows for each function. This will make it easier and more efficient to handle moving around several large files at once, such as photos and videos.
If you're copying or moving files, you can also get an expanded view to see throughput graphs and how many bits have already been transferred. Microsoft also claims its time estimates to completion will be more accurate in Windows 8.
Finally, Microsoft has improved the filename collision dialog to make it easier to figure out which files you'll be overwriting when a new file has the same name as a file already sitting in your destination folder.
Exploring Ribbons
The Windows 8 version of Explorer is also getting Microsoft's ribbon interface in a bid to make the file management tool more touch friendly, efficient, expose useful commands, and to reintroduce popular Explorer features from Windows XP. Microsoft has also optimized the new Explorer for widescreen displays and will add about 200 keyboard shortcuts for power users.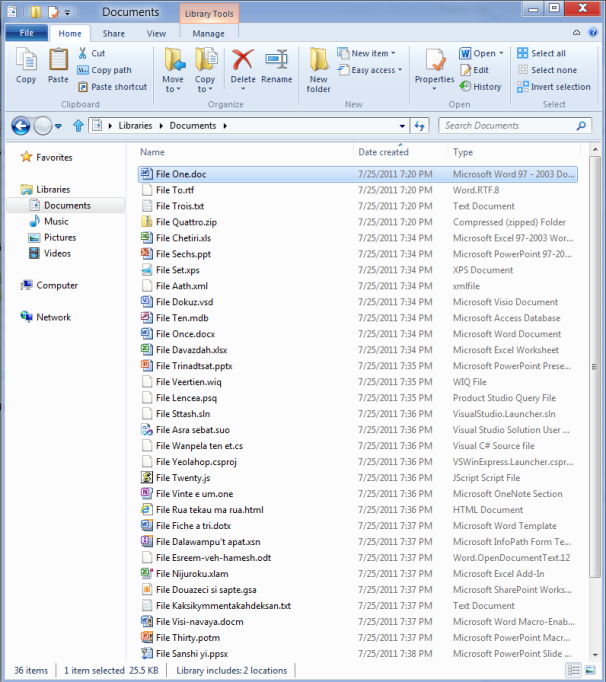 The new Windows 8 Explorer will have three main tabs–Home, Share, and View–along with a File menu on the far left side. Explorer's primary Home tab in Windows 8 includes 84 percent of the commands users employ most often, Microsoft says, such as "Move to" and "Copy to" for moving and copying files. Microsoft has also exposed the command "Copy path" for people who want to paste a file path into another Explorer window to access a file quickly or email a link to a file sitting on a corporate server.
The Share tab offers one-click access to the "Email" and "Zip" commands, as well as other options such as "Burn to disc," print and, in a nod to the 1990s, fax. The new Explorer will also show you who has access to a currently selected file on your HomeGroup or enterprise network.
Explorer's new File menu gives power users quick access to the command prompt as well as an option to open the command prompt as an administrator. Both options open a C prompt with the file path set to your currently selected folder such as My Documents or Desktop.
There are also contextual menus in Windows 8's Explorer that only show up when you are doing specific tasks. If you open up Explorer to look at photos, for example, under the "Manage" tab you'll see options to rotate the currently selected photo, start a slideshow, or set a photo as your background.
Opening up an Explorer window to look at your computer's connected drives will give you options to format, optimize, and clean up your hard drive, eject an external thumb drive, or activate Windows' Autoplay feature. Windows 8's Explorer will also include XP's 'Up' button that allows you to move backwards through your file directories.
That's all for now, but Microsoft is expected to reveal more details about Windows 8 during the company's BUILD conference that starts September 13 in Anaheim, CA. We'll keep an eye on Microsoft's blogs for more Windows 8 news.
Connect with Ian Paul (@ianpaul ) and Today@PCWorld on Twitter for the latest tech news and analysis.