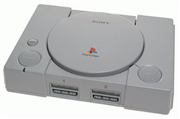 PlayStation emulation tends to be all over the place, and you may think that you're screwing it up, but it works perfectly well when all is said and done. Though nearly as many PlayStation emulators as NES emulators have appeared at one time or another, and though many (frankly, most) have a better UI, none of them provide a more compatible or more extensible baseline than ePSXe.
Make sure that you find a BIOS (SCPH1001.bin) before starting the emulator for the first time, or you won't be able to get past the first step of the configuration wizard. For my money, the default audio and I/O plugins are fine, but video is a different story: You'll definitely want to scoot over to the homepage of the once and future prince of PlayStation emulation (a guy who goes by "P.E.Op.S.," and likes his polygons chunky, not stirred) to get his OpenGL2 GPU plug-in.
Once you've downloaded the plug-in, put it in the plugins directory of the ePSXe folder. Unzip and run the emulator, find your BIOS, click through, and point the video plug-in step of the configuration wizard toward OpenGL2–that's the one you just downloaded–and you'll find that its "configurating" menu is a familiar-by-now mess of barely coherent drop-down boxes.
If you're running on a modern machine, the quickest way to deal with configuring is quite simple: Click the Default settings – Nice button in the bottom-left corner of the window, and look only at the resolution options at the top of the page thereafter. Once you're done with configuration, select either Run CDROM or Run ISO from the File menu, depending on whether you're using original discs. Nearly all games should look and sound perfect.
Note: In one of ePSXe's weirder design decisions, the emulator doesn't stop running when you close the program window normally, and at that point the only way you can stop the virtual PlayStation from chugging along in the back of your machine's brain is to open the Task Manager and kill ePSXe manually. To quit the emulator properly, press Esc while in-game, and then close the program.