As a doting cat owner, you probably would want the best for your cat, as well as making sure it stays safe when it decides to roam outside the house. Sometimes, cats will jump from dizzying heights to get out the house, so why don't you save yourself the worry and install a cat elevator?
Wait, what?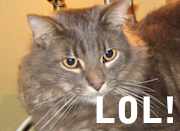 CrazyMrJohn on YouTube posted a video of his interesting feline creation, showing his cat getting into the lift, sending it to the front yard and then waltzing out. The lift uses infrared to sense when a cat enters through the catflap; once the itteh bitteh kitteh is comfortably settled in the glass box, the lift will slowly take it down to the ground, no human interaction needed.
While it is pretty cool, you'd need a very patient, very lazy, and very easy-to-train cat in order to make proper use of this. Most cats probably would not be too impressed by this (unless there was perhaps a tasty treat dispenser in there, too). At least the cat would be able to get a 360 degree view of what's going on outside, so it'll have plenty of chances to spot some prey, assuming the prey didn't run away laughing.
Check out one cat giving it a go in the video below. Would you install something like this for your cat? Why (not)? Tell us in the comments below!
[YouTube via Hack A Day]
Like this? You might also enjoy…
Get your GeekTech on: Twitter – Facebook – RSS | Tip us off