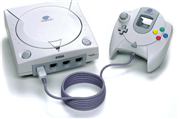 Dreamcast emulation is, sadly, a bit like the console itself: bright, shiny, full of potential, and somewhat abortive. Only two successful emulators have ever emerged, and only one has survived in reasonably good condition: NullDC.
You'll need to find a BIOS (distributed as two files, dc_boot.bin and dc_flash.bin) for this emulator to work. Unzip the emulator, and put the BIOS files in its data directory. You may get a missing DLL error on trying to run the program, which you can fix by installing the 2008 version of the Microsoft C++ redistributable package. Note that you do need the 2008 version (I know, I know). If you get it up and running successfully, your only remaining task prior to getting in-game is to choose Normal Boot from the File menu; it will then prompt you to select an ISO.
NullDC has (somewhat inexplicably) never supported any controllers other than a keyboard. However, you can use a handy little application called Joy2Key to map your USB gamepad keys to in-game controller buttons.
As a small bonus for your trouble, NullDC contains the same aspect ratio override feature as Project64, and it works about as well here. You'll find it at Options, PowerVR, Aspect Ratio: Extra Geom. Make sure that the PowerVR resolution is set to maximum supported in order to get the full effect of this feature. With all of that out of the way, you're good to go–and you may be pleased to know that Dreamcast emulation isn't terribly CPU-intensive. Any reasonable modern dual-core CPU will work fine.