When HP killed its WebOS Touchpad two weeks ago, then sold off remaining stock at $99 fire-sale prices, it seemed the tablet would be dead for good. But that's not quite the case. The TouchPad tablet is entering an odd state of zombie-hood as HP is making one last batch to meet "unfulfilled demand." There is no word on when that will arrive or for how much, and HP won't guarantee it will be enough to meet demand, but there are more on the way.
TouchPads may be cheap now, but are they any good? Could your business benefit from an inexpensive tablet portal to the Internet with a very limited app catalogue? For some users, several recent developments may sweeten the deal.
Now you'll be able to work with Microsoft Office documents on the TouchPad, as the Quickoffice HD productivity suite was updated for it Tuesday. At launch, the included version of Quickoffice HD could only open and view Word and Excel files. With this update, you'll be able to create and edit Word and Excel files, and get some advanced text and cell formatting options along with performance enhancements.
In addition, HP confirmed via an email reply to CNET on Tuesday that an over-the-air update for WebOS on the TouchPad is on the way to add even more functionality to the platform. There's no word on when that will arrive or what enhancements it might include.
In the meantime, you can grab yet another free pack of apps, although most are games. They are limited use codes though, and the previous 6-pack of free codes has already been used up. For more TouchPad tools, check out our roundup of the top 10 free apps.

Another app that can help the Touchpad function in a business, the Citrix Receiver, is also available for free. With WebOS's multitasking, you can have multiple sessions open simultaneously.
Another app for the business traveler, FlightPredictor HD, is also included in the latest free pack. Powered by FlightCaster.com, this app provides timely notifications of flight delays to help you keep your trips on track.
On top of all of that, you can print from the TouchPad. In PCWorld's lab testing, the Touchpad sent documents to the printer well enough, but the results had several interesting quirks.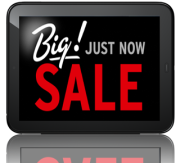 The HP Touchpad may not have fared well in initial reviews, but with the new pricing and document editing capabilities, it presents a tempting option as a simple office terminal.
The screen size and resolution are comparable to the iPad. Add in the Touchpad's great multitasking, Synergy syncing, tablet optimized 3-pane email, universal search, a good browser, and now Office document editing, and you're covered for office basics. Now you just have to get your hands on one.