The Financial Times' refusal to cooperate with Apple's new in-app subscription policies has resulted in Apple's ousting the venerable news source from the iTunes App Store. The newspaper's civil disobedience may inspire other large companies to ditch iTunes as well, perhaps sparking an exodus from Apple's store and its policies, which many observers see as greedy and restrictive.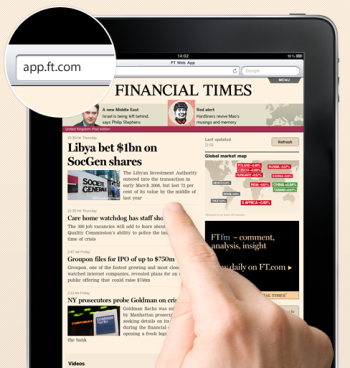 Two months ago, Apple imposed new App Store rules that required developers to sell all product subscriptions through iTunes, with Apple taking a 30 percent cut of the profits. Developers lashed back, foreseeing that these restrictions could affect their revenues. Apple's olive branch was that those who didn't want to share profits had to remove in-app links to sites where subscriptions and products can be sold.
The Financial Times disagreed with these changes and immediately began prompting customers to visit the Web-based version of the newspaper as a clean workaround. When Apple's deadline to put up or shut up arrived on June 30, the Financial Times stuck around for an extra two months and then jumped iTunes' ship altogether to focus on its HTML5-based Web app.
Financial Times spokesman Tom Glover said that the paper is directing readers to the Web app, which he claims has 555,000 users–more users than on its native iOS apps combined and "now delivering the largest share of subscriptions from our mobile channels."
CEO John Ridding told PaidContent.org that the fallout wasn't solely about money and Apple's 30 percent slice of the pie, but that the Financial Times wanted sole ownership of the data it collects about its customers.
The question now is, who else is willing trash all association with iTunes? So far, a few companies have begrudgingly agreed to remove in-app purchasing options from their iOS products; some are becoming more focused on building HTML5 Web apps that can be read by mobile Safari.
Amazon, for instance, released the Web-based Kindle Cloud Reader, which skirts disagreeable policies and allows Amazon to keep 100 percent of its profits. Similarly, ebook retailer Kobo rebuffed Apple by building its own HTML5 ebook store.
Facebook is working on a new platform called Project Spartan, based entirely on HTML5. This is slightly odd given that Facebook isn't an e-commerce business. However, it could be seen as a punch in Apple's gut: if Facebook licenses the Project Spartan platform to developers, this could inspire many iOS developers to quit iTunes, and motivate product users to fire up mobile browsers and ignore neatly packaged apps.
But for now, Financial Times is the only company to flat-out say no to Apple.