Windows 7 tablets may be unpopular, but Samsung's Series 7 Tablet has a lot to offer those who want a powerful tablet with laptop features. The Series 7 Tablet packs the same hardware specs as the Samsung Series 7 laptops — in a thin 2-pound 11.6-inch slate form that pairs with an external keyboard.
Starting at $1,099, this Windows 7 slate can be customized with laptop-like components: an Intel Core i3 or i5 processor, 64GB SSD, and 4GB of RAM. There's an array of ports lacking on typical tablets, including full-size USB, micro HDMI, and micro SD.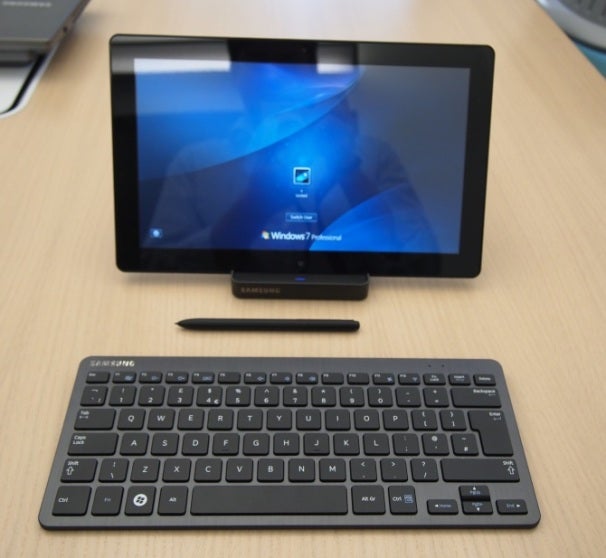 If the subpar touch experience on Windows 7 makes you hesitate to give the Series 7 Tablet serious thought, perhaps the flexibility of using the tablet as a laptop might pique your interest. For an additional $260, Samsung doubles the SSD storage space and adds a docking station with wireless keyboard. The docking station features full-size Gigabit Ethernet ports and USB and HDMI ports.
You could also use a stylus that comes included with the device on the touchscreen, which has a resolution of 1366 x 768 pixels.
Since we expect the Series 7 Tablet to be able to upgrade to the touch-friendly Windows 8, like other systems running Windows 7, the Series 7 Tablet might be a good investment if the current tablets just aren't laptop-like enough for you.
Follow Melanie Pinola (@melaniepinola) and Today@PCWorld on Twitter