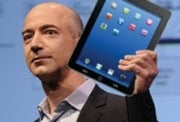 Production on a 10-inch Amazon tablet will begin in the first quarter of 2012, while a 7-inch slate from the company will begin shipping in October 2011, according to Taiwan-based DigiTimes. The site is known for being plugged into the supply chain for high-tech components.
Citing sources with "upstream component suppliers," the DigiTimes reported that Foxconn Electronics is handling the order for the 10-inch tablets. Foxconn has already made some 15 to 18 million e-readers for Amazon. The Kindle e-reader makes up 60 to 70 percent of all global e-reader shipments thus far this year.
Those same sources told the publication that Quanta Computer will produce the seven-inch Amazon tablet and that it will start shipping the tablets in October.
That October window jibes with other reports predicting a late third quarter or September launch. If Amazon is going to pull up the curtain on a tablet, a launch in that time period makes sense to many observers. It would allow the tablet to take advantage of the holiday season.
It would also counter two rumored Apple moves expected to occur during the period: The introduction of an upscale iPad and the roll out of a new version of the company's mobile operating system, iOS 5.0.
While the Internet has been abuzz with predictions about Amazon's tablet plans, the online retailer has been taciturn about the topic, although this spring CEO Jeff Bezos couldn't resist tantalizing consumers with the prospect. When asked by Consumer Reports about Amazon's tablet plans, he responded, "Stay tuned."
Will Amazon Give Apple a Run for Its Money?
Because tablets are such a hot hardware category, any news about new ones generates a buzz that exceeds its actual importance. That may not be the case with an Amazon offering. Because of the company's size and success with a tablet-like device–its Kindle e-reader–it's believed that Amazon can give Apple, the dominant player in the tablet market, some real competition.
One market analysis firm, Forester Research, predicted that Amazon could become a major player in the tablet fray within a year of its entry into the market. In the fourth quarter alone, the firm predicted, Amazon could sell three to five million units–if it could produce them fast enough and if they're aggressively priced. As the recent fire sale of HP TouchPads has shown, when tablets are priced to move, they do. And the pricing for Amazon's tablet will reportedly be "hundreds less" than that of the iPad.
In addition to pricing, an Amazon tablet would benefit from the company's powerful distribution presence on the Net and its heralded marketing acumen, which is as strong as or stronger than Apple's. It's also rumored that the Amazon tablets will have more muscle than the iPad and be sporting quad-core processors.
Follow freelance technology writer John P. Mello Jr. and Today@PCWorld on Twitter.