At a Glance
Expert's Rating
Pros
Small enough to carry in your pocket
Cons
Some of the older models have issues with the iPhone 4
Our Verdict
If you're a small-business owner or you simply need a better, cleaner way of accepting payments, this is the service and device for you.
The mobile-payment market has been evolving rapidly. With the ubiquity of credit cards, customers are less likely to carry cash. Near Field Communication systems, popular in Asia, are also advancing, and services such as Google Wallet (not out in the United States yet) will make it even easier for customers to pay without cash.
Setting up merchant services with your bank can be complicated, with lots of hidden fees; but when it comes to accepting a credit card payment directly on your smartphone, you have more options these days. Two of those options, Square and Intuit GoPayment, will send you a small credit card scanner for free when you sign up for a new account. Each scanner simply plugs into your smartphone's audio jack.
Intuit's GoPayment system surfaced in the news recently, as Verizon started offering its mobile credit card scanner in retail stores. Verizon will charge you $29.97 up front for the scanner, but then give you a $30 mail-in rebate–which is odd, considering that Intuit will send you one for free when you make a new account.
Each service offers apps for iOS (iPhone, iPod Touch, and iPad) as well as for Android. Intuit's GoPayment also supports some BlackBerry phones. Since the devices plug into the headphone port, they are compatible with almost any phone that can run the app. Each service is easy to set up and has a simple fixed-percentage fee with no separate transaction fee.
I've been testing both tools in my own business as a freelance musician and private violin teacher for a few weeks now, and in this article I'll outline my findings.
Hardware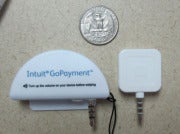 Square's reader is small but sturdy, about the size of a quarter. The tiny size of the reader makes it more difficult to hold steady while swiping. I also wasted valuable time running and rerunning a worn-out card while a student waited for his lesson to start. For some of the cards I tested, reading often took several swipes; the worn card never did scan, and I had to enter the number manually.
The compactness of the Square Card Reader also makes it harder to keep track of. You can attach a lanyard or key ring to the device, but it doesn't come with one. I've been keeping my reader in the foam holder it shipped in, so that it doesn't get lost in my bag.
The Intuit GoPayment reader is larger and has a much longer slot for swiping a card. It comes in a plastic case with a lanyard already attached. It also offers less resistance, so cards glide through. I had more success getting it to read cards in fewer tries.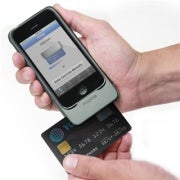 Intuit's list of supported hardware is much shorter than Square's, however, and doesn't include my phone, a Motorola Atrix running Android. In my tests the app recognized the scanner, but failed to read any data coming in. The only way for me to use the GoPayment app on my phone would be to key in the numbers manually, which takes longer and comes with a higher fee. The scanner worked well with my iPad.
Square offers only the small audio-jack scanner, but with the GoPayment system you have more options. For $219, Intuit sells a desktop scanner that connects over Bluetooth and includes a built-in printer for receipts. I also tested a Mophie case for iPhone 3G with a built-in scanner ($80). The Mophie case gave me the most reliable scans, better than either audio-jack reader did.
Sign-Up and Setup
Signing up for the Square reader was fast and easy. The company requires only an email address and a password, and a mailing address for sending the reader. I was able to take payments right away, and I didn't need to submit my bank information until I was ready to start pulling money out. After verifying your bank account, Square automatically deposits transactions each evening.
The Intuit setup required much more information up front–including bank account details and credit report questions. Even with all of that, my account was approved within a few hours, and the card reader was in the mail the next day.
Setup with both devices is as simple as installing the appropriate app from the marketplace and plugging the scanner into the headphone port. However, you will have to go into the GoPayment settings and tell it whether you're using the audio-jack scanner or a Bluetooth scanner–and turn up the volume.
iPad Apps
Both payment apps on the iPad take advantage of the tablet's large screen, although only the GoPayment app will work in both portrait and landscape modes (Square's app is limited to portrait orientation). The GoPayment app requires your password each time it opens, whereas Square saves your information until you choose to log out.
Each has a system of "items" to which you can add pictures, descriptions, and prices for the things you sell. The items appear on the main screen, and a simple tap will add an item to the invoice. Square makes entering custom amounts much faster with an easy-to-access keypad; in GoPayment, you have to create an item for the special amount you want to charge.
Once you have the items and charges ready, simply tap the Charge button to proceed to swiping the card. Each app also offers the option of manual card entry in place of swiping, and Square will allow you to record a transaction as cash.
The next step is the signature, if one is required. (Square has added the option to skip the signature for transactions under $25.) The Square signature pad is laggy, and my already messy signature came out worse than usual. Intuit's app records much smoother-looking signatures.
Receipts from Square say they're from Square, while receipts from Intuit say they're from the email address you have registered with Intuit. As a result, my email program (Gmail) tagged the receipt from Intuit as a potential phishing attack.
A note about Android tablets: The Motorola Xoom is the only tablet on Intuit's list of supported devices, and Square does not offer a tablet version of its Android app.
Mobile Phone Apps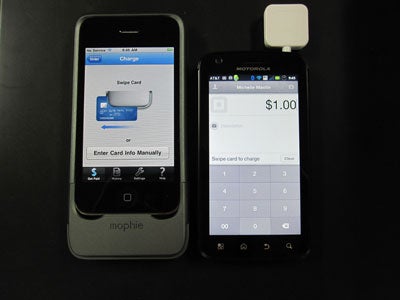 Square's Android and iOS apps look identical, as do the GoPayment apps. Similar to their iPad counterparts, Square will stay logged in while GoPayment will ask for your password, and you're stuck in portrait mode with Square.
With the Square app, you get no option to create and save items, but you can add an image and description to the amount you're charging. The GoPayment app will give you the option to create a list of items with preset amounts to add to an order, or you can scan a card first and then enter the amount.
Getting Your Money and Paying Fees
Both apps transfer money automatically into your registered bank account. Intuit takes that information at sign-up and treats each credit card transaction as a bank transfer, promising funds in your account within two or three business days. Square pulls money into your Square account, and, after verifying your bank account, pays out every evening.
Square is easier to track when it comes to fees. If you swipe a card, you're charged a flat 2.75 percent with no transaction fee. If you manually enter the numbers, it's 3.5 percent with a transaction fee of 15 cents.
For no monthly fee, Intuit GoPayment charges swipes at 2.7 percent with no transaction fee except on American Express cards, and at 3.7 percent if you key the number in. For higher-volume businesses, Intuit offers a plan that takes only 1.7 percent swiped and 2.7 percent keyed in, for a $13 monthly fee; if you do more than $1300 in sales a month, you'll prefer this plan.
Security and Software Integration
All of the apps require an Internet connection to work. You have no option to take information and run it at a later time. Make sure that you always have a stable and secure Internet connection, especially if you take payments in the field or at events. Although I find such a restriction annoying in my line of work, since I'm frequently at events with no Wi-Fi, this limitation is actually a security measure: Neither app will store credit card information on the phone or tablet.
Square is PCI-compliant and VeriSign trusted. Square is transparent about security, and you can read more about the methods the company uses to keep your information secure at the Square website. The service will export your transaction history as a CVS spreadsheet for import into the tracking software of your choice.
Intuit, being the parent company of QuickBooks, offers the option to import GoPayment transactions into QuickBooks (Pro, Premier, and Enterprise, 2009 or later), in addition to offering a CVS export. GoPayment is also PCI-compliant, with similar encryption standards to Square's.
Which Should You Choose?
Finding the best payment option for your business requires weighing several factors. If your business is already reliant on QuickBooks, if you're currently using other Intuit merchant-services products, or if you frequently run over $1300 in sales monthly, then GoPayment is a good choice. If you're looking for simplicity and ease of management, the Square system fits the bill. Square's website is quick to navigate, and its mobile apps are straightforward and easy to get going.
In my case, it comes down to a question of connectivity and hardware. I need to be able to take payments at my studio with its spotty Wi-Fi, as well as at outdoor weddings and other events with no Wi-Fi. However, despite being partial to Intuit's hardware and pricing (I could benefit from the higher-volume plan during the school year), I'll have to go with Square to be able to use my smartphone.