Lenovo has provided a sneak peek at a coming announcement, and the big reveal shows that the company has been giving serious thought to how it can make an impact with a 7-inch tablet. Coming later in September: The IdeaPad Tablet A1, the first 7-inch tablet priced at $200 or less (our bet is that it will be $199.99, but technically that's still under $200). For that price, you'll have to sacrifice on-board storage, but not functionality—and you'll get some innovation, too, since it's the first tablet with a full GPS that can be used without a data connection.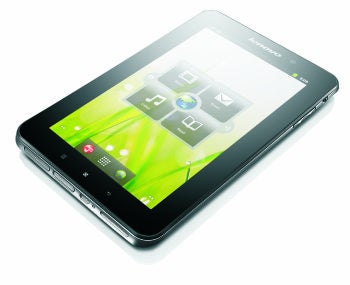 One surprise: The IdeaPad Tablet A1 comes with Android 2.3 Gingerbread, as opposed to the Android 3.2 version of Honeycomb designed for tablets (and found on the $330 Acer Iconia Tab A100). Using Gingerbread now that Android 3.2 is out feels like a letdown, especially considering that the tablets that have been able to get away with using 2.2 or 2.3 on a 7-inch display have done so by making significant customizations to the stock Android apps and interface. It's not clear to what degree, if any, Lenovo has made such changes itself. Lenovo did mention this model would have its Launch Zone widget, something we liked in the company's first tablet, the IdeaPad Tablet K1.
The new IdeaPad Tablet A1 isn't especially slim—it measures 0.47 inch thick, which puts it at the half-inch thickness of Acer's A100 and the original Samsung Galaxy Tab 7-inch model. Lenovo's A1 weighs 0.88 pound, compared with 0.92 pound for the A100, and the original Galaxy Tab's 0.85 pound.
Lenovo busts out the color options for the IdeaPad Tablet A1, with four separate offerings: white, black, pink, or light blue. The company talked up its magnesium alloy "roll cage" case design that protects the internal components with bumpers.
The unit achieves its low price in part through its minimal on-board storage: It comes with 2GB of internal storage, though versions with higher capacity will be available. The microSD card slot allows expansion up to 32GB, and a micro-USB port makes it easy to sideload content via your PC.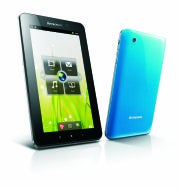 Inside, the tablet has a single-core 1GHz Cortex A8 processor. That single-core CPU may be the reason why no Honeycomb is on board, and may explain how Lenovo can achieve its aggressive price.
Most notable for a tablet at this price: The touchscreen is capacitive touch, not the all-too-common resistive touch found on the current crop of so-called value tablets. And it's a higher-than-average-resolution display, too: 1024-by-600-pixel resolution, with 170 pixels per inch (ppi). That makes the display sharper than screens found on more expensive tablets, including the Apple iPad 2, which has 132 ppi on its 9.7-inch screen.
The IdeaPad Tablet A1's front- and rear-facing webcams have the same resolution at 3 megapixels, and its battery is rated at 7 Web-browsing hours.
Since the built-in GPS receiver can be used with or without a data connection, the included NavDroyd navigation app can be used at any time—within reason, of course. Like the other tablets from Lenovo, the IdeaPad Tablet A1 will have access to the Lenovo App Shop, where about 200 apps for 7-inch tablets will be available. Also preinstalled: Lenovo's Social Touch app, which aggregates email and calendar appointments with your social media connections on Facebook, Twitter, LinkedIn, and more.