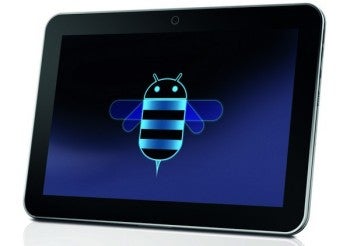 Toshiba joins the tablet parade at the IFA trade show in Berlin this year, with its introduction of the Toshiba AT200. This intro was handled by Toshiba Europe, not Toshiba USA or Toshiba Worldwide, so the info supplied may not match up to what's offered Stateside. Toshiba America has confirmed that the AT200 is on its U.S. roadmap, but didn't indicate a time frame. Nor did the company have any other details to share, beyond noting "general availability, pricing and detailed specifications of this product have not yet been announced."
The one tidbit Toshiba America did drop: When it comes to the U.S., the AT200 will co-exist with its current Toshiba Thrive. The Thrive currently ranks third on our Top 5 Tablets chart, helped heavily by its inclusion of a plethora of inputs, including a full-size USB port and an SDXC card slot for additional storage.
The AT200's focus will be on slim design and light weight, if the specs hold to what was announced for Europe today. (Famously, earlier this year Samsung actually changed the specs of its Galaxy Tab 10.1 between its worldwide introduction at Mobile World Congress and its U.S. debut a little more than a month later at CTIA in Orlando, reducing the weight and slimming the tablet down considerably.) The AT200 will weigh 1.23 pounds, and stand 0.3-inch deep, making the new Toshiba tablet a shade lighter and thinner than Samsung Galaxy Tab 10.1, at 1.25 pounds and 0.34 of an inch.
Toshiba Europe says the AT200 will have micro-USB, microSD, and micro-HDMI ports. If true, I'll especially miss the full USB port and the SDXC card slot already on the Thrive; the inclusion of those made the tablet a compelling camera companion while on-the-go, though I wished the Thrive's display was better.
Little more of note was said about the AT200, except to say it will be available in the fourth quarter in Europe.