Google's Android OS continues to gain on both Apple iOS and Research In Motion's BlackBerry platform in the growing U.S. smartphone market, but often stodgy RIM is on the wish lists of some cutting-edge buyers, according to the Nielsen research company.
Nielsen's Mobile Insights survey for May through July showed 40 percent of all smartphones in the U.S. ran Android, while 28 percent were iPhones. RIM made up 19 percent of phones in consumers' hands. Just last November, it held 26.1 percent of the market.
However, the class of consumers that Nielsen calls "Innovators," the self-described earliest adopters of new products, were the most interested in buying a BlackBerry as their next smartphone. In survey results from consumers likely to buy a smartphone in the next year, 11 percent of Innovators named BlackBerry as the most likely OS they'll seek out, a bigger percentage than for any other group of shoppers.
RIM recently unveiled phones running the new BlackBerry 7 OS, and the long-anticipated phones based on its all-new QNX platform, first used in the PlayBook tablet, are expected next year. The company has struggled to keep up with smartphones based on Android and iOS, and in June it cut its sales forecast and announced layoffs. On Wednesday, Mike Kirkup, RIM's senior director of global developer relations, announced he had resigned.
Among the Innovators polled by Nielsen, the most desired smartphone OS was Android, at 40 percent, with iOS coming in second at 32 percent. Among smartphone shoppers as a whole, desire for the two big OSes was roughly even at about 30 percent each, according to Nielsen. But Apple could soon gain on Google if it announces the next-generation iPhone next month, as many observers expect.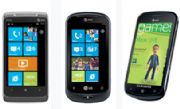 Microsoft's Windows Mobile and Windows Phone 7 platforms lagged behind BlackBerry in buying intentions, with the most interest coming from the earliest adopters, of whom about 7 percent are looking for a Microsoft phone. Among devices in consumers' hands now, the expired Windows Mobile platform made up 7 percent of units and the new Windows Phone 7 was just 1 percent, Nielsen said.
Smartphones now make up 40 percent of all handsets in the U.S., with less-capable feature phones now 60 percent of the market, according to Nielsen. Mobile operators are promoting the trend toward smartphones, which can consume more data services. On Thursday, Verizon Wireless began a limited-time offer of a US$100 gift card to current subscribers who upgrade from a feature phone to a smartphone.
Stephen Lawson covers mobile, storage and networking technologies for The IDG News Service. Follow Stephen on Twitter at @sdlawsonmedia. Stephen's e-mail address is stephen_lawson@idg.com