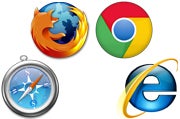 It's hard to believe it's been only three years since the Google Chrome browser debuted. According to the latest market share statistics from usage-tracking firm Net Applications, Chrome now has 15.51 percent of the desktop browser market–a meteoric rise for an app that entered a crowded market dominated by neighborhood bully Microsoft Internet Explorer.
Chrome is third among desktop browsers, behind number one IE (over 55 percent of the market), and Mozilla Firefox (nearly 23 percent).
What's the secret to Chrome's success? "Speed, simplicity and security," writes Google software engineers Ben Goodger and Darin Fisher in a Thursday post on the Google Data blog. Competing browsers, of course, are making strides in the Three S's as well. But Chrome's virtues are proving powerful enough to lure users away from IE and Firefox.
As Goodger and Fisher point out, Chrome has made great strides over the past 12 months, adding faster JavaScript performance, speedier page-loading times, a much-needed print preview feature, and various other upgrades.
Is the Web better with Chrome? Satisfied users of other browsers would certainly disagree, but I think so. I switched to Chrome from IE last year and haven't looked back.
I only hope that Google's breakneck update schedule doesn't pile on too many new features that turn Chrome sluggish. The browser's peppy performance is its most appealing trait.
Contact Jeff Bertolucci via Twitter (@jbertolucci) or at jbertolucci.blogspot.com.