If you've been reading this blog for a while, you've probably seen us refer to the Arduino microcontroller on a number of occasions. This little circuit board is at the heart of many DIY projects, from robotics to art projects and just about everything in between.
But what on Earth is Arduino, anyway? What makes it so versatile? And what can you do with it?
Limor Fried built her business on DIY tools and technologies. Limor, better known to the Internet as Ladyada, is a cofounder of Adafruit Industries, a site that sells kits, tools, and accessories geared toward the DIY set. Ladyada was gracious enough to take a few minutes to explain a little about what makes Arduino boards so cool–and useful–to anyone who's ever wanted to build or hack their own devices.
Arduino Defined
Arduino is described by its makers as "an open-source electronics prototyping platform based on flexible, easy-to-use hardware and software," whatever that means. In short, it is a popular open-source electronic board that is capable of controlling just about any DIY hardware project. And there's a lot you can do with it.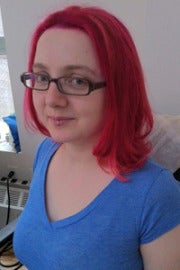 As Ladyada explains:
"The 'what is Arduino?' is still a little vague, and that's the Arduino's strength. It's the glue people use to connect tasks together.The best way to describe an Arduino is with a few examples. Want to have a coffee pot tweet when the coffee is ready? Arduino. Want to have a Professor X Steampunk wheelchair that speaks and dispenses booze? Arduino. Want to make a set of quiz buzzers for an event out of Staples' Easy Buttons? Arduino.
[…]
"Arduino was mostly designed by artists for artists and designers…I think it's been the most important product/project in the world of educational electronics."
Arduino is sold under a Creative Commons Share-Alike (CC-SA) license, so you can make changes to the original Arduino board or how it's programmed and release it to the public, so long as you release it under the same CC-SA license. As you might expect, this has resulted in plenty of variations of the original Arduino board. Ladyada points to the Gameduino board, which is made with DIY gaming in mind. And Teagueduino is essentially an Arduino board put together in a kit to help people learn how to program it.
Seeing as Ladyada's job essentially allows her to play with Arduino boards and create her own projects, we asked her for an example of her best and worst creations:
"Luckily I think I can answer this using the same project! The best/worst Arduino creation was an open-source Homeland Security non-lethal weapon project: "THE BEDAZZLER: A Do-it-yourself Handheld LED-Incapacitator".
"After attending a conference where the $1 million "sea-sick flashlight" (named "THE DAZZLER") was demonstrated by the US Department of Homeland Security, we decided to create our own version using an Arduino. For under $250, you can build your own dazzler and we've released the source code, schematics and PCB files to make it easy. A great Arduino project for people who really like blinking LEDs. We also added in a mode selection so you can put it into some pretty color-swirl modes, great for raves and parties!"
Making It Work
Before you start messing with an Arduino board, you will need to learn how to program one. Luckily, there are a number of resources that can help you get started.
Ladyada has a few suggestions:
"A lot of people use my free tutorials on my personal website. I have six lessons all together and many people over the years have said their is where they started their journey. There are also some great books, two of my favorites are: Getting Started with Arduino by Massimo Banzi and Practical Arduino by Jon Oxer and Hugh Blemings. The free open-source Arduino IDE (how you program Arduinos) also has tons of code examples and libraries.
"Next up, there are Hackerspaces for in-person learning and workshops and lastly (but not least) the amazing Arduino online community. You can visit the arduino.cc forums or Adafruit forums and see thousands of people helping each other and sharing code! It's a wonderful community and very inclusive to beginners!"
For some additional inspiration on what you could make with your Arduino kit, follow geeky technology blogs (such as this one!) that showcase the finest hacks, or check out Freeduino for a listing of handy tips when you're fine-tuning the microcontroller. Make's blog and Instructables also have good Arduino sections. If you idea or project could be beneficial to other people, drum up some support on Kickstarter.
Clearly, if you're looking for an affordable way to begin programming cool robotics and other projects, Arduino is a great–and fun–place to start. So what are you going to create with Arduino? Don't forget to tip us off when you're done with your next awesome creation!
Like this? You might also enjoy…
Get your GeekTech on: Twitter – Facebook – RSS | Tip us off