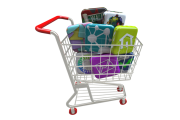 The number of apps a mobile OS racks up in its store these days doesn't mean anything. Yes, you read that right. Contrary to what we've been fed by promoters for the Apple and Android platforms, it turns out that people don't really care how many apps they have to choose from.
That may surprise you, as a lot of bragging is done based on the fact that half a million apps are in the Apple App Store, and more than 250,000 in the Android Market.
That isn't to say people don't like apps–indeed, people do love them.
But look at how they are using them. People are downloading the same apps across all major mobile platforms and consistently using the same ones for long periods of time, according to two separate Nielsen findings.
Apps like Facebook, Twitter, Pandora, the Weather Channel, and Angry Birds all consistently appear in the top ten charts for each platform. These are the top most-downloaded apps on Android, iOS, BlackBerry, and Windows Phone 7.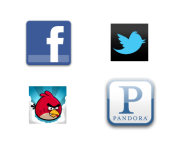 Occasionally a hot game will push app rankings around a bit, but the above-mentioned apps always remain in the top 10. For instance–according to a blog post on Nielsen's website–Android users spend 43 percent of their app time using apps from this top 10 and 61 percent of their time using apps in the top 50.
Smartphone owners do download other apps besides this clutch of popular offerings, but those additional apps aren't used nearly as much. I myself have downloaded tons of different apps across multiple devices–it's part of my job. But even though I have around 190 apps on my iPod Touch, I really use only about 10 or 11.
[You may also be interested in: PCWorld's Phone Information Center.]
A Game of Numbers
So why do Apple and Google brag about their large app numbers when talking about their products? It's simple: Boasts about how many apps a platform has can somewhat mislead consumers into believing that they are getting more for their hard-earned cash when they buy a phone on that platform.
Apps are seen as a way to add extra functionality to a device, and some of them do. However, for every good app that lots of people enjoy, you'll see a wave of copycat apps that do the exact same thing (though often not as well).
For instance, at this writing, more than 900 solitaire game apps are available for the iPhone, and more than 1200 for Android phones. If you were to remove all the copycat apps, you would probably end up with around the same number of apps currently available on Windows Phone 7 (30,000) which is a huge difference in terms of app variety. That's not to say that the WP7 platform doesn't suffer from duplicates. It does–just not on the same scale as Android and iOS.
Apps Shouldn't Be a Big Factor When Purchasing New Gadgets
When you purchase a new smartphone or tablet, regardless of the platform, don't base your decision solely around how many or which apps are available for your OS.
Instead, pick hardware that you feel comfortable using and (more important) is offered at a price that you like. Since most of the major app developers (the people who make the top 50) have apps across all platforms, you're sure to find the apps that do what you want and that will be useful to you.