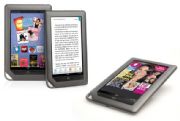 Barnes & Noble's Nook Color e-reader has proven to be a favorite among consumers and critics alike. With its 7-inch capacitive touchscreen and Android 2.1 operating system, it blurs the boundaries between e-reader and tablet. In fact, with a few simple hacks, it functions as a capable Android tablet.
Digitimes reports that Barnes & Noble will launch its next-generation Nook Color this month. Citing unnamed industry sources, the Taiwanese trade publication says the new Nook will incorporate more tablet-like functionality, including email, music, games, and other apps.
The new Nook Color will include a 7-inch color touchscreen, reports Digitimes. We'll have to wait and see if the new display sports higher resolution–the first-gen model is 1024-by-600–or other show-stopper enhancements not found in the original.
Kindle Killer?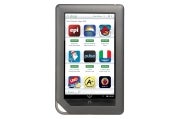 Digitimes' sources say the upcoming Nook Color is designed to compete directly with the Amazon Kindle. Given the product's capabilities, it's possible they're referring to the alleged Amazon tablet–also rumored to debut this fall– rather than today's Kindle e-reader, a non-backlit device designed primarily for book-reading.
A new Nook Color and Amazon tablet would join a crowded field of slates, many of which were just announced recently. These include the 7-inch Lenovo IdeaPad, a $199 Android tablet priced $50 less than today's $249 Nook Color.
Amazon and Barnes & Noble will have to price their new hardware aggressively to compete with the bumper crop of sub-$350 slates. Let the Tablet Wars begin!
Contact Jeff Bertolucci via Twitter (@jbertolucci) or at jbertolucci.blogspot.com.