History does repeat itself: San Francisco Police Department confirms it helped Apple in a hunt for a lost iPhone 5 prototype that went missing in July. Don't hold your breath, though — no photographic evidence is available this time, as it was the case with the lost iPhone 4 prototype last year.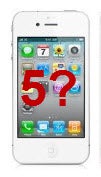 Just a few hours later after denying any involvement in the iPhone 5 prototype hunt, San Francisco police spilled the beans. SFPD says four of its officers accompanied in plainclothes two Apple investigators in the unusual search, led by Apple's GPS trace on the device. The officers apparently never entered the man's house, while Apple's security officials scoured the 22-year-old man's house and computer for any trace of the lost iPhone 5.
Still doubt what unreleased iPhone Apple was desperately seeking? Reuters has pieced it together — even SFPD named the Word document statement on the search "iphone5.doc." What's unclear is whether Apple managed to find the lost iPhone 5 prototype. CNet says the prototype might have been sold on Craigslist for a mere $200 (last year's iPhone prototype finder got $5000 for the phone, trial is ongoing).
Lost Again
The news of a second lost unreleased iPhone broke earlier this week. CNet first reported the device went missing at a San Francisco bar in July; two days later, Apple investigators and police officers searched the house of a young man who denied ever possessing such a device. They did not find the phone and even reportedly tried to offer the man cash, no questions asked, in exchange for its recovery.
Further details on the mysterious iPhone prototype search came from SFWeekly, which identified the young man whose house was searched. But in a weird twist of events, he claimed the four men and two women who came to his home searching for the lost phone were impersonators — while San Francisco police said the department had no records of such an incident involving its officers. The man later acknowledged only Apple reps entered his home.
Even if an iPhone 5 prototype is still in the wild, pictures of it are yet to surface. This leaves us with rumors of the upcoming iPhone, said to arrive some time in October with a better processor, camera, and probably thinner and with a larger display.
Follow Daniel Ionescu and Today @ PCWorld on Twitter