Google says it's working to keep the virtual lights on for businesses that are being incorrectly labeled as "closed" on Google Maps. The issue was raised in a New York Times article that profiled a handful of businesses that had been temporarily labeled closed on Google Maps, apparently due to what Google product manager Ethan Russell calls "malicious or incorrect labeling."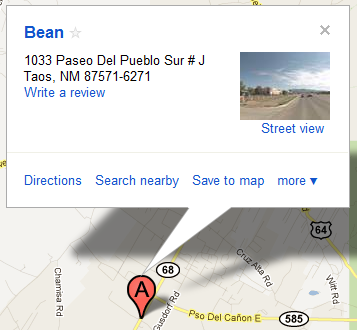 "About two weeks ago, news in the blogosphere made us aware that abuse — such as 'place closed' spam labels — was occurring. And since then, we've been working on improvements to the system," Russell wrote on the company's Lat Long Blog.
The problem appears to be that it's pretty easy to report that a place is closed on Google Maps. Anyone can do it with just a few clicks, and according to the Times, it only takes a few reports of a place being closed to change its status on Google Maps.
I decided to put the Times' theory to the test by reporting a coffee shop near my home as "closed." The shop, "The Bean," closed its doors this year, but the store and its second location, which closed long ago, were both listed as open for business as places on Google Maps.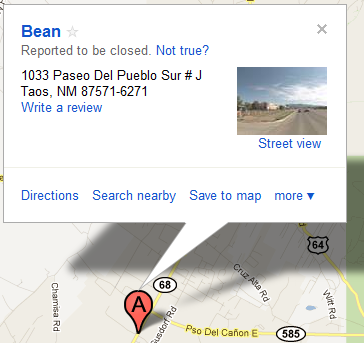 By simply clicking on "Report a Problem" and reporting the store as closed, the deed was done. Almost instantly a "Reported to be closed" label began appearing under the Bean's name. I closed both of the now-defunct Beans and saw the same result — instant virtual closure.
It should be noted that the label is followed by the words "Not True?" which links to a dialog to send more feedback to Google and contest the closed label, but it could be a while before Google actually reads it. When I reported both Beans to be closed, I checked the option to be notified when Google reviews my closure report. It's been about an hour and there's nothing but radio and e-mail silence from Mountain View, Calif.
In the engineering mind-set at Google, they already have a system in place to deal with the issue.
"When there is a pending edit that indicates that a place might be closed, our system currently displays the label, 'Reported to be closed. Not true?' Russell wrote in the blog post. "Only when that pending edit is reviewed and approved does the label change to, 'This place is permanently closed. Not true?' "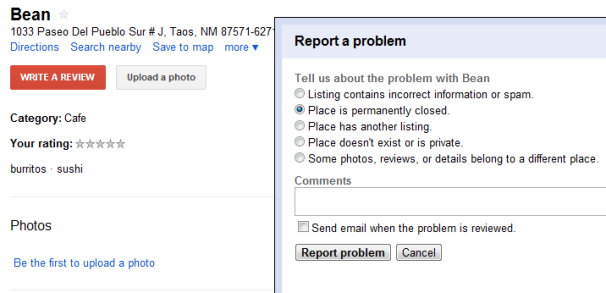 That difference may be obvious and distinct to a Google employee, but to the rest of the world that's just looking for a cup of joe, the words "reported to be closed" are more than enough to convince me to keep driving past the Bean and on to another store.
Russell says Google is working on the problem and that the company will implement improvements to the system in the next few days. More transparency would be a good place to start — perhaps a label that says "Reported closed by xx users" followed by a disclosure that spam labeling is a known issue. Also, it only seems right that business owners get a robocall letting them know their business has been reported closed and asking for confirmation.
Some sort of extra diligence only seems fair. After all, no one should be able to close in two clicks a business that took years to build.