Reader Dennis has a laptop running Windows 7. He noticed recently that the System Tray icons for power and volume have gone missing, and he's wondering how to get them back.
For starters, I'd check to make sure they're not simply "hiding." By default, Windows 7 displays only a few System Tray icons; the rest can be found in a pop-up window that appears when you click that little white up-arrow.
If that's not the issue (and I'm guessing it's not), you need to venture into the Control Panel to modify Windows' system-icon settings. This can be a bit confusing, however, as Windows 7 has two seemingly conflicting sets of controls for this. Let's take a look at both.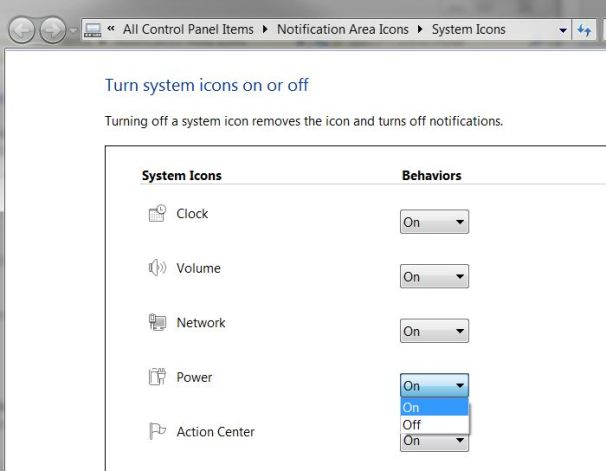 1. First, click Start, type icons, and then click Notification Area Icons.
2. Find the icons for Power and Volume, then make sure both are set to Show icon and notifications.
3. Near the bottom of that same window, click Turn system icons on or off.
4. Again, find the icons for Power and Volume (see above), and make sure both are set to On.
5. Click OK to exit.
If those options don't do the trick, Microsoft has a system-icons Fix-it that might.
Contributing Editor Rick Broida writes about business and consumer technology. Ask for help with your PC hassles at hasslefree@pcworld.com, or try the treasure trove of helpful folks in the PC World Community Forums.