Amazon.com is testing a redesigned version of its website, a development that's noteworthy given that the new look could be a roadmap of what Amazon is building into its upcoming tablet, and a glimpse at how the company is fortifying its own Apple-esque ecosystem.
Here's a closer look at Amazon's new style and how it may influence you to become an Amazon fanboy.
The old Amazon homepage (left) and the new one. (Courtesy of the Los Angeles Times)

Amazon.com Belongs on a Tablet
The new look and feel of Amazon.com screams tablet. It has a lot more white space, the messy sidebar on the left is gone, the search bar is enlarged for touchscreen fingertip use, and the product photos are easily clickable icons reminiscent of those in Amazon's Windowshop iPad app.
But what's most notable is Amazon's reported focus on the digital over the physical. According to the Wall Street Journal, the new Amazon.com shies away from highlighting physical products such as clothes and electronic hardware, and emphasizes built-in services like music downloads via Amazon MP3 and movies through Amazon Instant Video.
The remodeling started last week, but so far only a handful of users can see it live. Amazon spokesperson Sally Fouts told the Journal that the company is "continuing to roll out the new design to additional customers" but "can't speculate on when the new design will be live for everyone."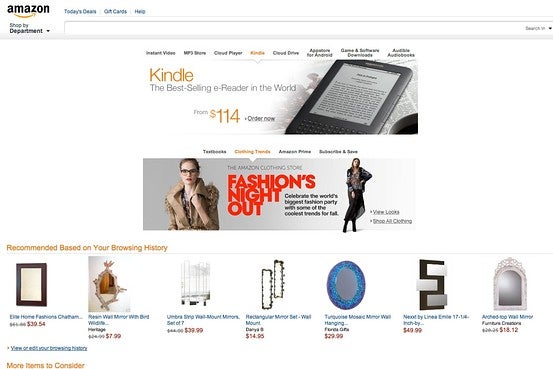 Building an Amazon Ecosystem
Just because the site looks tablet-ready doesn't necessarily mean Amazon is showing off its tablet OS. But it does indicate that Amazon is putting a lot of oomph into building an Amazon ecosystem, much as how Apple has constructed a lifestyle around its own products.
The iPod, iPhone, and iPad have all positioned Apple as the go-to company for mobile entertainment. Using only Apple products, you can talk, write, read, listen to music, and do a host of other things.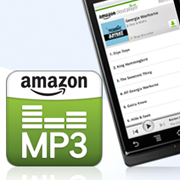 Amazon already has the foundation of a similar ecosystem, especially now that it's investing more resources into mobile technologies. There's music (Amazon MP3 and Amazon Cloud Player), video (Amazon Instant Video), a freestanding app store (Amazon's Appstore for Android) and, most prominently, books (the Kindle, its related apps, and the HTML 5-based Amazon Kindle Cloud Reader). Putting all of those services in one location, on one tablet, has the potential to transform Amazon's lesser-known services into household names.
But Amazon's "killer app" — the company's strongest weapon in the tablet market — is its retail presence. According to the Journal, Amazon.com had $34 billion in revenue last year. Amazon is also one of the most trusted brands in the United States. It's a one-stop shop, and has been for years.
Amazon has even tailored a version of Android for its upcoming tablet. TechCrunch played around with the tablet OS, and found that it looks and feels like Amazon.com but doesn't necessitate the construction (or require the cost) of making a brand-new freestanding OS.
Combine all of Amazon's powers and put them on a tablet, and what do you have? Another kind of one-stop shop, totally mobile, and supposedly available at half the price of the entry-level iPad 2. If the Amazon tablet has even half the sheen of its website redesign, and successfully integrates all of its services, the Internet retailer could have not only a best-selling tablet but also the beginnings of its own Apple-like lifestyle.