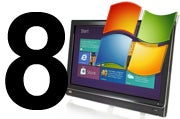 Nvidia CEO Jen-Hsun Huang has raised an interesting possibility about Windows 8, speculating that it will be able to run Windows Phone 7 apps.
Huang, who made the statement during a roundtable with reporters, didn't get into specifics, CNet reported. And because Microsoft hasn't commented, it's not clear whether Huang was speculating or offering a bit of inside information.
But if Windows 8 were able to run apps made in Windows Phone 7, it would be a huge boost for the tablet side of Microsoft's upcoming operating system, but with potential problems as well.
A head start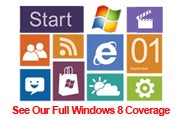 From what Microsoft has already said about Windows 8, the operating system's tablet interface will essentially act like a second OS. Although you'll be able to dip into the traditional Windows interface as needed, the tablet side will have its own apps and a completely different look and feel.
The inherent downside of that approach is that Microsoft will be starting from scratch with Windows 8 tablet apps. It'll have to convince developers to create new programs for Windows 8 tablets, and it'll surely be slow going at first.
But if Windows 8 can run smartphone apps, it'll give Microsoft's tablets an early jolt from the more than 30,000 Windows Phone 7 apps, in the same way that the iPad padded out its early app catalog with iPhone applications.
The same look
It helps, then, that Windows Phone 7 and Windows 8's tablet interface have very similar aesthetics. They both use Microsoft's "Metro" user interface, which puts a heavy emphasis on grids of information, separated into clearly defined columns.
In the earliest demonstrations of Windows Phone 7, Microsoft showed mock-ups where apps seemed to extend beyond the smartphone screen. I could easily imagine a tablet showing all of this information at the same time. (Look at the third slide in this Windows Phone visual tour to get a sense of what I'm talking about.)
One could even imagine a tablet-optimized Windows Phone app showing multiple columns of information at the same time, while on a smartphone the user would have to swipe between each column.
A potential conflict
But there is one potential issue with bringing Windows Phone apps into Windows 8: As Huang noted, Windows Phone apps were written for ARM-based processors. Windows 8 will support both ARM and x86 processors, but this could create a divide where different devices support different apps. (The desktop side of Windows 8 has the opposite issue, where most legacy Windows apps were written for x86 devices.)
Microsoft hasn't explained how it'll handle this dilemma. Next week, the company is holding a conference for developers and the media that will go into detail on Windows 8, so hopefully we'll get some answers then.
Follow Jared on Facebook, Twitter or Google+ for even more tech news and commentary.