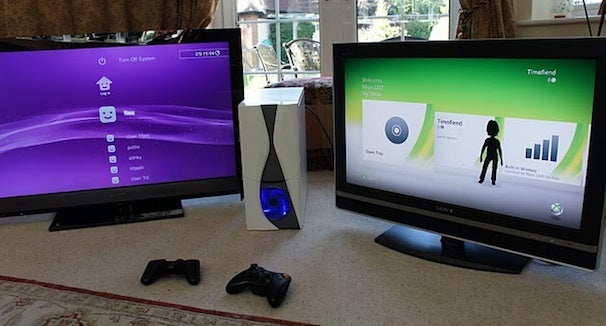 Dedicated fanboys, no matter which camp you sit in, you may want to check this out: A university student combined a PlayStation 3 and Xbox 360, giving the world what might be the closest thing to gamer nirvana we'll see.
Created by Tim Dykes (aka 'timofiend') of the University Of Portsmouth in the UK, the customized gaming machine houses both an Xbox 360 and PlayStation 3, and took a little over a month to create. Tim detailed that the project was a way for him to kill some free time during the summer months, adding that the completed machine features the new slim Xbox 360 model along with an original 80GB PS3.
Tim posted initial details of his hack on Reddit, and after an overwhelmingly positive reader response, he took to blogging all about his experience.
As you might expect, the hybrid game console required a fair number of tools to construct, including the usual pliers, screw drivers, glue, soldering iron, and so on. Aside from the aforementioned PS3 and Xbox 360, the completed case contains two temperature displays, plenty of nuts and bolts, and an ATX power supply unit.
The as-yet-unnamed final machine is pretty damn awesome, but it does come with some problems, such as the lack of physical power buttons for the two consoles. Problems aside, where else could you find a single device that can play God Of War, Halo, Killzone, Gran Turismo, and Gears Of War?
That's what we thought.
Tim posted more details to his blog, complete with numerous photographs of the build process. Now that it's complete, let's just hope the Xbox 360 within doesn't RROD.
Like this? You might also enjoy…
Get your GeekTech on: Twitter – Facebook – RSS | Tip us off | Follow Chris Brandrick