Samsung must not sell the Galaxy Tab 10.1 in Germany because it looks too much like Apple's iPad 2, the district court in Düsseldorf ruled on Friday.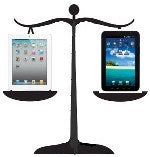 In addition, Samsung Germany may not sell the device in any other European Union country, although other Samsung divisions may sell into those countries, a spokesman at the court said.
Samsung will appeal the decision in the Düsseldorf Higher Regional Court, a spokesman said.
"We are disappointed with this ruling and believe it severely limits consumer choice in Germany," he said via email.
Apple had filed a lawsuit claiming that the Galaxy Tab 10.1 infringes on the design of the iPad 2, which is registered with the E.U.'s Office for Harmonization in the Internal Market.
"By imposing an injunction based on this very generic design right, this ruling restricts design innovation and progress in the industry," the Samsung spokesman said, adding that the decision is inconsistent with the August 24 ruling by a Dutch court on a separate case involving the two companies, which found the designs of Samsung's Galaxy products don't violate Apple's design right.
In the German case, Apple was granted a preliminary injunction about a month ago preventing Samsung from selling the tablet in all E.U. countries except the Netherlands, where a separate case is pending. A week later the ban was lifted in all countries except Germany, because the court wasn't sure it had the authority to stop a South Korean company from selling its products outside Germany.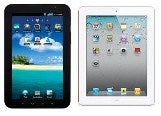 On August 25, the injunction was upheld, following a hearing that focused on the accuracy of evidence supplied by Apple, with Samsung accusing Apple of deliberately distorting images of the Galaxy Tab 10.1 so that it looked more like the iPad 2. Earlier, an investigation by IDG publication Webwereld showed that at least one of the Galaxy Tab pictures that Apple provided as evidence in the case was wrong or had been manipulated.
The global legal battle between the two companies even made its presence felt during the Internationale Funkausstellung (IFA) consumer electronics show in Berlin, where Samsung removed from its stand all traces of the Galaxy Tab 7.7, the 10.1's smaller brother, just two days after launching the product there. That device is the subject of a separate injunction from the lower court. Samsung can still challenge that ruling in the lower court.
However, in Japan, the CEO of mobile operator NTT DoCoMo said on Thursday that his company's launch of the Samsung Galaxy Tab next month will not be affected by a patent-infringement lawsuit Apple has filed there against Samsung.
Meanwhile, Samsung has vowed to keep up its legal counter-offensive. "We will take all available legal options including continuing to aggressively pursue Apple for its ongoing violation of Samsung's wireless technology patents around the world," the Samsung spokesman said.
Send news tips and comments to mikael_ricknas@idg.com