It remains to be seen if the long-awaited Droid Bionic from Motorola can live up to its own hype and compete with the iPhone 5, whenever it finally drops, but at the very least it looks like the Bionic is a tiny wonderland for tinkerers and DIY types.
Miroslav Djuric from the iFixit crew declares the new Android phone the most repairable smartphone the team has ever torn down, tying with its kin, Motorola's Atrix.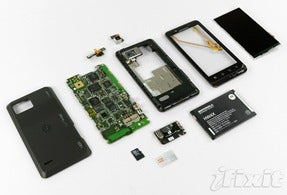 "All you really need is a Torx T5 screwdriver (and some non-trimmed fingernails, if you want to forego plastic opening tools) to take the whole phone apart!" he writes in an e-mail. "The phone is held together with a limited number of screws and plastic clips. Adhesive is minimally used in its construction, and many components can be replaced individually — they're not tied together with long, delicate ribbon cables. Heck, you can even replace the LCD separately from the glass!"
The Bionic's guts include a 1Ghz dual core processor from Texas Instruments, 16 GB of internal storage, a gig of RAM, and an 8 megapixel rear-facing camera. After taking off the back cover, battery, SD, and SIM cards, the iFixit team was able to get to the heart of the phone and check out the motherboard and components using only the T5 screwdriver, plastic opening tools, and some nimble fingers.
Among the other interesting chips to be found inside, beyond the processor and memory:
Qualcomm PM8028 chip that works in conjunction with the Qualcomm MDM6600 to provide wireless data connection to the phone and speeds of up to 14.4 Mbps.
Hynix H8KCS0SJ0AER and Hynix H8BCS0QG0MMR memory MCP containing Hynix DRAM and STM flash
ATMEL MXT224E-CCU Touchscreen Controller
Motorola T6VP0XBG-0001 mystery chip
Overall, iFixit scored the Bionic a 9 out of 10 on its repairability scale. The full 16-step teardown with photos is on the iFixit site.
Follow Eric on Twitter, and at ericmack.org. Follow PC World on Twitter, too.