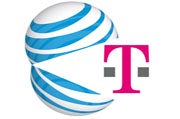 The U.S. Department of Justice would "severely set back growth and competition" in the U.S. mobile telecom market if its efforts to block the acquisition of T-Mobile USA by AT&T are successful, AT&T said in court documents filed Friday.
The US$39 billion merger will be good for consumers, said AT&T, joined by T-Mobile USA and T-Mobile parent company Deutsche Telekom in their reply to the DOJ's lawsuit seeking to block the deal.
"The combination of T-Mobile and AT&T is good for consumers," lawyers for the companies said in the reply. "Integrating the two networks will free up spectrum and create substantial new capacity to meet the spectacular growth in demand resulting from an increasingly on-line world. Rather than substantially reducing competition, the combined firm will usher in more intense competition to an already vibrantly competitive market."
The merger would lead to higher quality of service, fewer dropped calls and lower prices to consumers, AT&T said in the reply brief.
AT&T continues to seek an expedited hearing in the DOJ's antitrust lawsuit, filed Aug. 31. "At the same time, we have been and remain interested in a solution that addresses the DOJ's issues with the T-Mobile merger," said AT&T spokesman Michael Balmoris. "When these discussions occur they will be confidential and as such we won't be commenting publicly."
AT&T is confident the deal will eventually happen, he said.
The DOJ filed an antitrust lawsuit against AT&T and T-Mobile in U.S. District Court for the District of Columbia on Aug. 31. DOJ lawyers argued the merger would remove T-Mobile as a low-cost competitor to the three other nationwide mobile carriers.
AT&T, in its response, argued that the DOJ misrepresented the level of competition in the U.S. mobile market. The merged company will have competition from two other national carriers, Sprint Nextel and Verizon, but also from regional carriers such as US Cellular and Cellular South and from "innovative upstarts" MetroPCS and Leap Wireless, AT&T's lawyers wrote.
The DOJ "fails to depict accurately the state of competition in mobile telecommunications today, the dynamic nature of the wireless industry, or the procompetitive and proconsumer impact of this transaction," AT&T said in the reply brief. "Wireless competition is fierce: prices have declined steadily, output is expanding, technological innovation is occurring at an extraordinary pace, and new providers with innovative business models have successfully entered and expanded. All of this will continue, and likely increase, after the transaction."
The DOJ predicted higher mobile prices if the deal is allowed to happen.
"The combination of AT&T and T-Mobile would result in tens of millions of consumers all across the United States facing higher prices, fewer choices and lower quality products for mobile wireless services," Deputy Attorney General James Cole said on Aug. 31. "Consumers across the country, including those in rural areas and those with lower incomes, benefit from competition among the nation's wireless carriers, particularly the four remaining national carriers."
Grant Gross covers technology and telecom policy in the U.S. government for The IDG News Service. Follow Grant on Twitter at GrantGross. Grant's e-mail address is grant_gross@idg.com.
Note: When you purchase something after clicking links in our articles, we may earn a small commission. Read our affiliate link policy for more details.