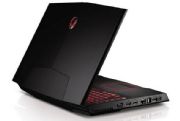 Dell has acknowledged the problem of broken hinges on some Alienware M11x laptops and is asking customers with the issue to contact the company for a resolution.
Complaints about damaged hinges on earlier Alienware M11x R1 and R2 laptops have resulted in screens popping out or damaged keyboards, according to complaints in forums such as NotebookReview.com.
"Dell will repair broken hinges on any Alienware M11x system for any R1 or R2 customer worldwide regardless of warranty status," wrote Dell's John Blain, in a blog entry on the company's website.
Alienware M11x R3 systems, which were announced in April, already include fixed hinges. The M11x R1 and R2 laptops were announced last year.
In fixing the hinge assembly, Dell will replace the LCD panel and wireless components. Dell has asked customers with working hinges not to contact the company. But if a hinge breaks in the future, a fix will be provided, Dell said.
Under the standard warranty, customers may need to send affected laptops to Dell. If customers originally had an on-site service warranty, a technician will visit to repair the laptop, Blain said.
In most cases, customers can initiate repairs by contacting customer service via e-mail or phone, and following specific instructions, which can be found on Dell's blog.