Days after giving Carol Bartz the pink slip, Yahoo's board of directors is focused on deciding whether the company should be sold, not on finding a new CEO, according to a report on Saturday in The Wall Street Journal.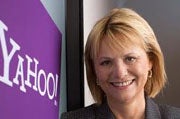 Before starting a search for Bartz's replacement, Yahoo's board wants to determine whether the correct strategy for the company is to remain independent or be sold whole or in parts, the Journal reported, quoting anonymous sources.
Yahoo has yet to retain an executive search firm, and instead has instructed a board committee to conduct a review into whether Yahoo should be sold or not, according to the article. Allen & Co. and UBS Investment Bank will assist Yahoo with this review, the Journal said.
Since Bartz was fired on Tuesday, other anonymously-sourced reports in various media outlets have speculated that co-founder and former CEO Jerry Yang wants to buy the company and is trying to round up investors to back him up, and that AOL and Yahoo are in talks over a possible merger.
Bartz stepped in as CEO in January 2009 and implemented a major corporate restructuring to make the company more agile, a big technology upgrade for its advertising and publishing systems, and a streamlining of the company's products and services.
However, Bartz came under fire this year for a series of missteps. Early in the year, Bartz acknowledged that the 10-year, wide-ranging search technology and advertising partnership she brokered in 2009 with Microsoft wasn't yielding the expected revenue stream, a problem that persists.
Then, in May, Yahoo got embroiled in a months-long tussle with Alibaba Group, after the latter spun off its online payments unit. Yahoo, which owns 43 percent of Alibaba Group, claimed it wasn't informed about the deal, while Alibaba Group, which manages Yahoo's brand and services in China, said the opposite. The spat was resolved in July.
Bartz also was criticized for an unexpected and significant slowdown in Yahoo's display ad business which started in the second quarter and was expected to continue through the third quarter.
Overall under Bartz, Yahoo didn't experience a financial turnaround. On her last day as CEO, Yahoo's stock price closed at $12.91, slightly up from the $12.10 per share at which it closed on Jan. 13, 2009, her first day as CEO.
CFO Tim Morse has been named interim CEO. Bartz had replaced Yang, who in turn took over from Terry Semel, who served as CEO from 2001 until 2007.