Want some help wading through the coverage? Ten Internet stories, resources and tributes marking Sunday's tenth anniversary of the September 11, 2001 terrorist attacks are a must-read.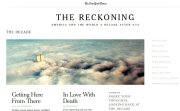 The New York Times 10 Year Retrospective: The New York Times has a comprehensive resource page with links to stories about the effects of 9/11 over the past 10 years, including the war in Afghanistan, U.S. domestic policy, Al Qaeda, rebuilding at Ground Zero and other issues.
Understanding 9/11, Internet Archive: The Internet archive has assembled 3000 hours of television coverage of the Sept. 11 attacks and the days following, including international coverage.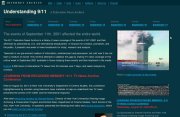 Scripting.com, Dave Winer: He covered 9/11 on his blog Scripting.com ten years ago. He spent his day providing links to news and trying to find the best information for readers several years before Facebook, Twitter and camera-enabled mobile phones made it easier to gather real-time information during a crisis. Note that some links in Winer's post are no longer working.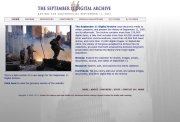 9/11 Digital Archive: The Center for History and New Media and the American Social History Project have a digital archive dedicated to preserving photos, video, audio as well as commentary from site visitors.
Interactive Graphics, The Wall Street Journal: The newspaper has several interactive photos that let you explore the World Trade Center area in New York. One photo lets you see the site as it stands today. There is also a second interactive photo that lets you compare Ground Zero at different times based on satellite photos provided by Google. You can compare eight photos of the site between June 2000 and June 2011. The Journal also has its own ten-year retrospective.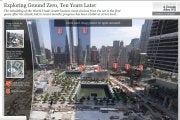 September 11, 2001 Timeline, BBC: The BBC provides some of the best online resources for notable news events. This 9/11 timeline is no exception.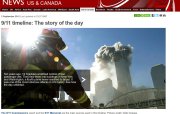 Child's View, Salon: Ten years later, Salon reports on how September 11 affected three adults who were children living in lower Manhattan in 2001.
Personal Stories, The Huffington Post: An interesting collection of personal stories about how 9/11 changed peoples' lives.
The Picture Show, NPR: National Public Radio has collected links to three different sources for photo journals covering September 11 and the following days, including Life.com, and the photo agencies Magnum and VII.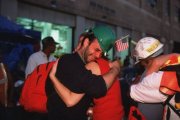 The Future, Google Earth: The Google Earth blog pointed to a 3D sketch of what the World Trade Center area will look like after reconstruction. Download the model to view it on Google Earth on your desktop.
Connect with Ian Paul (@ianpaul ) and Today@PCWorld on Twitter for the latest tech news and analysis.