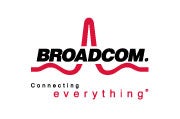 Broadcom has agreed to acquire communications processor company NetLogic Microsystems for $3.7 billion, the companies announced Monday.
The deal will allow Broadcom to extend its communications chip product lines, adding multi-core embedded processors and digital front-end processors for wireless base stations. Broadcom's chips are also found in smartphones, GPS receivers and Wi-Fi modules.
It's the largest in a string of recent acquisitions for the communications chip designer. In May, Broadcom bought Israeli security software developer SC Square for $41.9 million, while last October Broadcom paid $316 million for 4G wireless chip maker Beceem.
The companies expect to close the deal in the first half of next year, subject to approval from regulators and NetLogic shareholders.
Broadcom also said it now expects its revenue for the third quarter to be in the middle of the forecast range of $1.9 billion to $2 billion. That's an improvement on the third quarter last year, when it reported revenue of $1.8 billion. The company also reiterated its forecast that gross product margins would be flat or rise slightly, and that costs would remain flat or fall by up to $10 million.
Peter Sayer covers open source software, European intellectual property legislation and general technology breaking news for IDG News Service. Send comments and news tips to Peter at peter_sayer@idg.com.