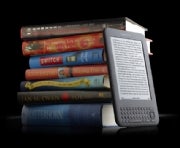 Amazon is reportedly in talks with publishers to turn a selection of Kindle books into a Netflix-like content library as an added bonus for Amazon Prime customers. Under the rumored plan, Prime members would get to read a limited number of books for free every month from a library of older titles as part of their annual $79 Prime membership fee, according to The Wall Street Journal.
Prime is a special program from Amazon that gives you free two-day shipping and reduced price one-day shipping on all your Amazon orders for one year. You also get unlimited streaming access to a small library of movies and TV shows.
Publishing Resistance
It's not clear if the rumored e-book Prime library plan would allow you to download the books or just save them to your device for a limited time. Amazon's e-book lending library idea is still in the formative stages, and publishers are reportedly leery of the new Amazon library fearing it could devalue books in the eyes of consumers.
The Whole Package
Perhaps spurred by the reaction to its Prime Instant unlimited video streaming, Amazon hopes to convince more people to join Prime with enticing add-ons. The company's Prime library might also tie-in to the retailer's strategy for its highly rumored, Android-based tablet to compete with the iPad.
Similar to Apple, Amazon's slate could offer an integrated shopping experience with one-click access to online movie and TV viewing, e-book sales, MP3s, and apps. But Amazon would also want to encourage people to use their Amazon tablets to shop for physical items such as TVs, consoles and games, physical books, DVDs, computers, and toys.
And that's where an enticing Prime membership comes in. Amazon Prime members are more likely to shop from the online retailer since they want to recoup their $79 annual fee in free shipping. So Prime add-ons such as free books and free, unlimited video streaming could help convince more people to sign up for Prime.
But if Amazon's Prime Instant Video is any guide, Amazon's Kindle lending library may be nothing to get excited about. You can already get a large number of books for free on the Kindle, most of which are classics such as Alice's Adventures in Wonderland, The Adventures of Sherlock Holmes, Pride and Prejudice, Treasure Island, Little Women, War and Peace, and Gulliver's Travels. Amazon's digital library would have to offer books a little more substantial than classic tales to win over more Prime members.
The Journal says the deal would include older books. It's just not clear just how far back these "older titles" will go. I would guess we're probably talking about a smattering of recent books, and then a heavy dose of titles from the early 2000s, the 90s and earlier. That's similar to what you get from Prime with popular TV shows on the service including The Tudors Season 4 (2010), Doctor Who Season 4 (2007), Star Trek: Deep Space Nine Season 1 (1993), and movies such as The Girl Who Played With Fire (2009).
Those titles may not match Netflix's streaming offerings, but for online shoppers already thinking about signing up with Amazon Prime it could be enough to tip the scales in Amazon's favor. Add to that an expanded library of free books on Kindle, and Prime may be appealing enough to win over more digital consumers.
Connect with Ian Paul (@ianpaul ) and Today@PCWorld on Twitter for the latest tech news and analysis.