AT&T has unveiled a lineup of new Windows Phone 7.5 "Mango" smartphones coming soon, and plans to upgrade existing Windows Phone 7 devices to Mango soon. With the additional devices, AT&T will have seven different Windows Phone 7 smartphones to choose from.
AT&T currently offers four different Windows Phone 7 models: HTC HD7S, HTC Surround, Samsung Focus, and LG Quantum. Now, AT&T is expanding that lineup with three new Windows Phone 7.5 "Mango" smartphones–the HTC Titan, Samsung Focus S, and Samsung Focus Flash.
The HTC Titan has a massive 4.7-inch display. A couple tenths of an inch bigger and it could be a Dell tablet. It has a 1.5GHz processor, and an 8-megapixel camera with dual LED flash, and a 1.3-megapixel front-facing camera. It is an impressive device, but the single core processor may be a little underwhelming to live up to the potential of the rest of the hardware.
The Samsung Focus S is the next generation of the leading Windows Phone 7 device, the Samsung Focus. The Focus S has a 4.3-inch Super AMOLED display, 1.4GHz processor, an 8-megapixel rear camera and a 1.3-megapixel front-facing camera, and it does 4G.
The Samsung Flash will be the smaller, more economical cousin of the Focus S. It has a 3.7-inch Super AMOLED display, and a similar 1.4GHz processor, but the rear-facing camera is only 5-megapixels. It does have a front-facing camera as well, but there are no details available for it.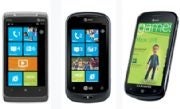 In addition to announcing new Windows Phone 7.5 smartphones on the horizon, AT&T also revealed that all of its existing Windows Phone 7 devices will be upgraded to Mango sometime this fall. Granted, fall doesn't officially begin until September 23, and doesn't end until December 22–so it may still be awhile. But, it is better than nothing and the knowledge that Mango is coming soon means that users can feel confident buying existing Windows Phone 7 smartphones.
"Our customers love Windows Phones which is why we've sold more of them than anyone else," said Jeff Bradley, senior vice president, Devices, AT&T Mobility and Consumer Markets. "We're taking our leadership to a whole new level by getting the Mango update to all existing customers and rolling out awesome new Windows Phones."
AT&T has embraced Windows Phone 7 much more than its wireless rivals. According to Microsoft, Sprint has only the HTC Arrive, and Verizon just offers the HTC Trophy. T-Mobile has two with the HTC HD7 and the Dell Venue. Other wireless carriers will probably be announcing new Windows Phone 7.5 "Mango" devices soon as well, though.