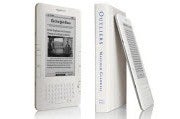 Amazon's plans to create a subscription-based lending library of e-books on the Kindle is just, at this point, a rumor–but, despite the novelty of the idea, it's already running into problems, namely from major book publishers.
These book publishers have long had a tenuous relationship with the Kindle platform, arguing with Amazon about e-book pricing (a battle the publishers unfortunately won) and digital rights issues surrounding Amazon's Kindle lending program.
There's a lot of promise to a Netflix-like distribution model for e-books, especially if it's integrated with Amazon's already stellar Amazon Prime membership. But Amazon will need to overcome some major hurdles. Here's a look at five things the Kindle Lending Library (as we'll call it) must do to succeed and–potentially– revolutionize the e-book world.
Make it Worthwhile to Publishers
Amazon's biggest foe is also one of its longest-held: Major book publishers. The two industries have already fought over Amazon's original e-book pricing model: All e-books offered at $9.99 or less. With a little help from iBooks and Apple's willingness to inflate e-book price tags, the publishers got their way and the e-book pricing changed.
Then publishers fought with the Kindle's lending program, which allowed Kindle owners to lend e-books to anyone with an email address for 14 days. Though lending on the Kindle maintained the e-book's DRM, the two parties made an agreement that publishers would be allowed to designate which books it wanted to be lendable. The result: Not that many are.
Basically, if publishers aren't happy, the Kindle Lending Library won't work. Amazon either needs to make it worth a publisher's while to participate in the Kindle Lending Library (read: throw a lot of cash at them), or it needs to somehow transform the way publishers think about the e-book industry versus that of traditional bound books. Given those two options, I think cash works best.
Make it Bigger and Better than Current Lending Program
There are already external e-book loan services out there–such as Booklending.com and eBookFling.com–that take advantage of the Kindle's built-in lending service by connecting bibliophiles across the Web and allowing them to share e-books without violating copyright or stepping on anyone's toes.
These services are mostly free, widely accessible, and presented without risk. And because 11,000 public libraries will soon have free lendable content on the Kindle, Amazon needs to make the Kindle Lending Library the best it can be. That means making most, if not all, of its e-books lendable, which, of course, requires publisher's permission.
Again, there aren't too many e-books in my Kindle digital library that are eligible for lending to friends, but if Amazon struck a deal and publishers opened the gates to best-selling and new titles, the Kindle Lending Library could be more than worthwhile for Kindle customers.
Sell It to Authors
If publishers balk, sell it to the authors. The ease of self-publishing on the Kindle has already disrupted the traditional publishing model: Two examples are crime and adventure writer John Locke, who hit the Kindle Million Club by selling a million copies of his self-published e-book; and Louise Voss, who sold a clutch of popular e-books and then scored a six-figure deal with a traditional publisher.
If influential authors became enthused by the Kindle Lending Library and promoted it to their fans, publishers would almost be forced to change perspectives on Amazon, the Kindle, and the way e-books are sold.
Sell the Real Value of Amazon Prime
If the Kindle Lending Library is tied with Amazon Prime, as reports suggest, Amazon needs to ramp up its marketing of the service and make it seem like a no-brainer to consumers. Not only will Prime members get access to a limited selection of free books, they'll also get a video-streaming subscription that's cheaper than Netflix's ($95.88 annually for Netflix's lowest tier plan compared to Amazon's flat $79 per year) as well as free two-day shipping on many physical items purchased through Amazon.com.
Amazon Prime is already a stellar deal; adding another benefit to subscribing would not only help Amazon throw around its weight in the publishing world, it'd also fortify Amazon as a lifestyle brand.
Create Two Plans: One-Off Rentals and Monthly Subscriptions
Students now can rent e-textbooks for a much lower price than the physical textbook or the e-textbook–Amazon should do the same for the Kindle Lending Library. Give consumers the opportunity to rent e-books one at a time–say two weeks for $2–or let them pay a flat fee through Amazon Prime that offers better savings.