These days, mobile-technology patents and lawsuits go together like peanut butter and jelly. Previously, patents primarily served to help companies protect their intellectual property; now, however, Apple, HTC, Microsoft, and smaller companies are using patents as leverage, suing one another in attempts to gain the upper hand. The trend, experts say, is quickly spinning out of control, and hurting consumers when it comes to mobile-gadget choices and prices.
Mobile-handset-related lawsuits are up 25 percent yearly since 2006, according to Lex Machina, an intellectual property litigation firm. Blame for the uptick in legal battles lies with the technology landgrab involving mobile companies eager to get a slice of the billions of dollars at stake in the fast-growing mobile arena, says David Mixon, patent attorney for Bradley Arant Boult Cummings.
"It may not be how the patent system was envisioned to operate, but this is the way that the business has evolved among these tech giants–because there's so much money at stake, and it's so competitive, and the marketplace is changing so rapidly," says Mixon. "Everybody is desperate to secure any kind of competitive advantage that they can in the marketplace."
What Is a Patent Worth?
Microsoft upped the Android-patent ante recently, adding a tenth patent-licensing deal (with China-based handset maker Compal Electronics). It already has inked deals with Acer, HTC, Samsung, and six other Android handset manufacturers, charging each for using its patents in their phones.
That's right: Although Microsoft may be struggling to get its Windows Phone 7 platform to compete against Apple and the Android army, its Android patents are estimated to earn the company $444 million in 2012 in licensing agreements, according to Goldman Sachs. Those numbers are based on projected royalties of $3 to $6 per Android device.
The Mobile Industry: Lawyering Up
What happens when someone doesn't pay Microsoft, or any other mobile patent holder? You guessed it: The lawyers roll up their sleeves.
Hundreds of patents are buried in smartphones. Not only are your phone's camera, chips, and other guts patented, but so too are specific features, such as the "swipe to unlock" function on the Motorola Droid, the method an iPhone uses to receive email, and the structure underlying in-app purchases (like those that allow you to upgrade or buy new game levels inside of a mobile app).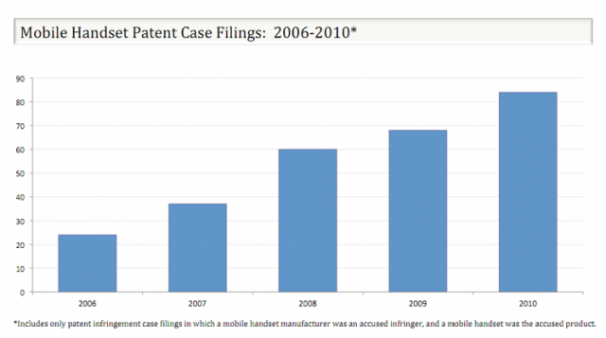 Such phone functions are at the heart of patent lawsuits affecting mobile firms large and small. For example, a company called Lodsys asserts that it owns the "in-app payments" patent, and it has taken dozens of iPhone app developers to court, demanding compensation.
When Patents Are Your Business

Florian Mueller, a patent expert and analyst, and writer of the Foss Patents blog, thinks Lodsys represents what are known unflatteringly as patent trolls. Mueller says that Lodsys is going after app developers–particularly small developers–unfairly, exploiting a patent that it may never use itself just to sue other parties and make money.
Those small developers aren't able to defend themselves properly, and often they find it easier to pay licensing fees or penalties rather than battle it out in court. "Even the cost of basic analysis of an infringement assertion, no matter how spurious it may be, costs them huge amounts of money by their standard," Mueller says.
Lodsys bristles at the notion that it's doing anything unethical. In a blog post, Lodsys defends itself, stating that it's simply protecting technology that is rightfully its own and seeking undisclosed compensation from app developers that have made money off its patent.
However, Lodsys's patent claim is just the tip of the iceberg–the patent wars are raging. Oracle is suing Google over the use of Java in Android. Apple is suing HTC, claiming that its phones copy the iPhone. Microsoft is suing Barnes & Noble over its Nook e-readers and the way the devices allow users to tab between screens.
Stifling Innovation?
Patent battles are undoubtedly costing the wireless industry billions of dollars–an expense that companies end up passing down to the consumer, indirectly.
But just how much all this patent stockpiling and legal feuding is stifling innovation is hard to quantify. Mueller points out that the amounts that big-name companies such as Apple and Google are spending on patent warfare are relatively small.
HTC America president Martin Fichter disagrees, however. At a recent Mobile Future Forward conference in Seattle, Fichter complained that patent battles distracted wireless companies, as they waste a lot of time and energy litigating instead of developing new technologies and user experiences, according to a GeekWire report. He said that the wireless industry needs to "stop [itself] from wasting all of this energy that should go into putting better technology into people's hands."
In other words, when a company is too busy looking over its shoulder and worrying whether someone is ripping it off, customers lose.
The Patent Wars Go from Bad to Worse
Fichter is speaking from experience. In September, HTC acquired several patents from Google and countersued Apple, alleging that it violated four HTC patents. Simply put, HTC claims that Apple's Mac, iPhone, iPod, iPad, iCloud, and iTunes violate a patent that allows the devices to upgrade software wirelessly.
Many industry observers see the fight between Apple and HTC as a prelude to a larger battle between Apple and Google. The late Steve Jobs famously called the Android OS a rip-off of the iPhone. Apple has yet to sue Google directly, deciding to go after Android proxies instead.
In August, Apple prevented Samsung from selling its Android-based Galaxy Tab 10.1 and its Android-based Galaxy S in parts of Europe, after Apple convinced both a Dutch court and a German court that Samsung was in breach of its patents.
Google, with relatively few mobile patents at the beginning of 2011, paid $12 billion to acquire Motorola, adding 17,000 patents to its war chest by including the (now-defunct) patent for the original cell phone. At the time of the acquisition, Google said the Motorola patents would help it build a stronger patent portfolio and deter intellectual property lawsuits.
Experts say the current patent wars are following a familiar pattern of new technologies. In the early days of the PC, for instance, computer makers often slugged it out in court, fighting over patents. The wireless industry will follow a similar patent-lawsuit trajectory.
(PCWorld Executive Editor Tom Spring contributed to this report.)