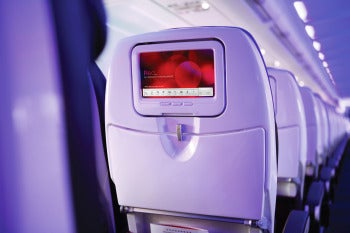 Gone are the days when a cross-country flight meant being stuck for hours without a way to contact the outside world. In-flight connectivity is going mainstream. Virgin America–one of the most tech-embracing airlines in the nation–announced substantial tech upgrades to its in-flight entertainment system at the Airline Passenger Experience Association Expo in Seattle today.
The revamp of "RED" (Virgin America's proprietary in-flight entertainment system) aims to improve seat-back entertainment for each passenger by offering larger, Internet-capable, touchscreen HD monitors, as well as Wi-Fi for passengers to connect their own devices to the Internet for the duration of their voyage. Passengers will be able to surf the Web on their seat-back monitor and connect multiple devices to the Wi-Fi at once. Virgin calls it a "hybrid" system across multiple platforms; in a press release issued late this morning, David Cush, president and CEO of Virgin America, said his airline wants passengers to multitask across tech platforms with this new system.
To get all this technology off the ground (so to speak) and make its fancy new tech-equipped planes work, Virgin America is partnering with Lufthansa Systems. The IT company–part of the German Lufthansa Aviation Group–designed BoardConnect, an on-board Wi-Fi network found in the German airline Condor's planes. BoardConnect is currently in back-end testing on a brand-new Virgin America Airbus A320 cleverly named #nerdbird. BoardConnect's server requires only a few access points to allow all passengers to connect to the system, and it will provide more scalable bandwidth than the current system does.
The new system will retain a wide selection of games, movies, music, and other programming, but if that seems limiting, passengers can power up their own devices and use the on-board Wi-Fi.
Since the equipment is still in testing mode, specifics are not yet available, but passengers can expect to see the new RED system on flights starting in late 2012. Virgin America expects its current fleet of 40 A320 planes to grow to 57 by mid-2013.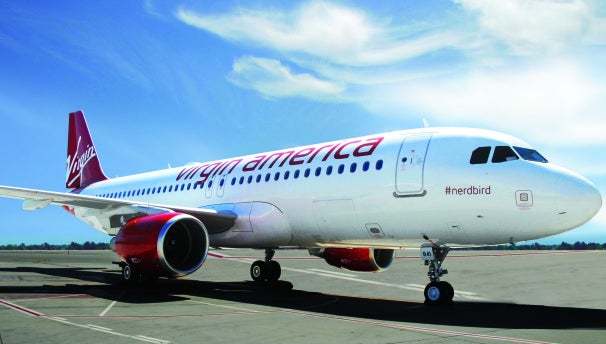 The Old RED System
Although the upcoming RED system promises a unique in-flight experience, Virgin America's current system already seems to be pleasing its tech-happy passengers. The airline has had fleet-wide Wi-Fi for all passengers since May 2009, via Aircell's Gogo service. Wi-Fi prices start at $5 and go up from there, depending on flight duration. Passengers can use their own laptops or mobile devices.
On top of Wi-Fi, RED also offers live satellite TV, video games, an instant messaging client that lets you chat with passengers in nearby seats, Google Maps that track the flight's location, and an MP3 library that allows you to customize playlists. All of these options are featured on an individual touchscreen seat-back monitor.
Recently Virgin also entered a partnership with Google that permits passengers to rent Chrome Books on select Virgin America flights for free on-board use, until the end of September 2011.
What Do Other Airlines Offer?
Virgin America isn't the only airline trying to boost its connectivity options–Wi-Fi seems to be a growing trend among other airlines, too. Delta offers Wi-Fi on more than 2200 domestic flights daily, also powered by Aircell Gogo and with similar pricing to Virgin America's plan. AirTran, American Airlines, Southwest, and United have Wi-Fi on select flights, and Jetblue will follow suit in 2012. With growing passenger connectivity needs–and with competitors raising the bar–major airlines have a real incentive to push in-flight entertainment in an even more tech- and device-friendly direction.