Bitcasa, an ambitious start-up, plans to offer unlimited cloud storage space, for $10 a month.
According to Bitcasa's chief executive, Tony Gauda, who presented the plan at the TechCrunch Disrupt conference, users will be able to enjoy "infinite storage" because 60 percent of their data is identical. In other words, if you have a song or a movie saved on your computer, chances are very high that someone else has the very same song/movie stored on their computer.
Bitcasa uses "patented de-duplication algorithms, compression techniques, and encryption" to keep costs down, the company says. This explanation is somewhat vague, but it sounds like Bitcasa is capable of determining duplicate files and storing only one or a few copies of said files.
Bitcasa says data that users upload will be encrypted and protected on their side, which means that nobody, including the company itself, can access it for any reason.
If that is true, then it could be good news for current cloud-storage users who might be concerned about the liabilities of storing data on someone else's hard drive.
In April, cloud-storage service Dropbox updated its terms of service to include a clause that stated it would turn users' files over to the government in the event that it was asked. While this was nothing new — most cloud-storage services' terms of service include this — the move raised questions about Dropbox's prior claims that its employees were unable to access user's files. (It was later revealed that Dropbox employees are simply prohibited from accessing such files, not incapable.)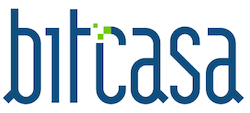 Bitcasa, on the other hand, claims that its employees are incapable of accessing user data for any reason. Such a bold claim, if true, will definitely help put people's minds at ease (not that people are necessarily breaking the law with their files).
Unlike its competitors, such as Dropbox, SugarSync, and SkyDrive, Bitcasa doesn't require any syncing. This is because all of a user's data is stored in the cloud and streamed to that person's device. For offline purposes, the hard drive on a user's device acts as a cache, and the files that person uses most often are stored there.
There are advantages and drawbacks to this plan. On the one hand, as Bitcasa states, it means that there's virtually no wait time. You don't have to wait for files to sync (ignoring the fact that syncing is usually a quick, painless process). On the other hand, if you're offline and you need to access a little-used file, you may be in trouble. Plus, if you happen to have a slow Internet connection, you'll probably wish your music files and videos were saved directly to your hard drive.
Bitcasa, which is funded in part by CrunchFund, plans to add more functionality in the future. This includes a free, limited-storage option, as well as mobile applications and real-time video transcoding. Bitcasa will be free while in (limited) beta, but will cost $10 a month afterward. Sign up for the beta trial here.