The buzzword is "reimagine" here at Microsoft's BUILD conference in Anaheim, California, where Windows 8 is being shown for the first time in detail to developers and the media. The term refers to the operating system's radical new look, new support for tablets, revamped Start Screen, and integration of a new class of "metro-style" applications.
It may sound like hyperbole, but after a full day of demoing the new operating system, we can say that "reimagine" is the most apt descriptor. The latest OS from Microsoft presents a fundamental change in the way Windows users will interact with a PC–be it a tablet, laptop, desktop, or all-in-one. Windows 8 supports new hardware, provides a new interface, enables new features for home users and businesses, and offers a new platform for developers to build upon. All this, and Microsoft promises that it will still run every application that runs on Windows 7.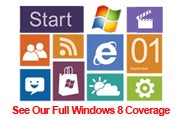 Still unknown is Windows 8's release date, and how many versions of the operating system will exist. What we can say is that it's the biggest change in how people will use PCs since Windows 95–and it's risky. This is not the safe, same-but-better experience we have come to expect for more than a decade from Microsoft.
Big Changes Start at the Start Screen
The Start Screen is at the core of Windows 8. Microsoft previously teased this new interface, which is steeped in the "Metro" design used on the Zune and Windows Phone 7. The thing is, this interface is not simply a secondary, alternate interface made for tablets and other touch-only devices. The new Windows 8 Start Screen–with its live tiles and touch gestures–is Windows.
When you boot any Windows 8 laptop, desktop, or tablet, you get a nice big lock screen with the time, date, and a few notification icons. Log in, and you're at the Metro-themed Start Screen. Swipe from the right edge of the screen, and five navigation icons that Microsoft calls "Charms" appear from the right side: Search, Share, Start, Devices, and Settings. Swipe from the left edge, and you flip back through your running applications, as though paging back through photos on a smartphone.
If you don't have a touch-enabled device, you still get the new Start Screen, and are still expected to use it. The mouse works fine, with the Charms moved to the lower-left corner, where the Start menu resides now. The mouse wheel scrolls through your pages of tiles, and right-clicking brings up the same application menu you would access with a swipe from the bottom of the screen on a touch device. Microsoft envisions a future where even devices with keyboards and mice will have touchscreens–we'll touch where it's more convenient, and type or point when the speed and precision of input devices makes sense.
Windows 8 Runs Tablet-Style Apps and Windows 7 Apps
The Start Screen is home to a new class of programs that Microsoft calls "Metro-style" apps. They are very similar to the types of tablet apps you are familiar with. Metro-style apps are made to be immersive, removing window panes and close buttons, scrollbars and menu bars. Metro apps run full-screen, though you can multitask in two at a time by having one occupy the left or right third of your display.
So, what happens when you run a legacy Windows application on an x86 device? Simply put, it runs on a normal desktop, complete with a taskbar that is, at this stage of development, very similar to Windows 7's. All of the bars and menus are there, the system tray is present–the only obvious difference is that the Start menu is replaced by the five Charms of Windows 8. Here's the rub: This isn't some odd mode distinct from the Start Screen. It operates as though it were just another Metro app. Pull up a list of your running apps on the Start Screen, and the Desktop (containing all of your current-style Windows applications) sits among them. It's there when you swipe back through your running applications. The experience is hard to describe in words, but it is natural and obvious in practice.
Metro-style applications are meant to work together through Windows 8 services called "contracts." If a developer enables the share contract with its photo application, for instance, it means that the data from that app (the photos) can be shared with other applications that implement the share contract. A search contract allows an application to say to the operating system, "Hey, my data can be searched." The idea is to permit applications to work together without their having to even know about each other, all while running inside a nice, secure sandbox.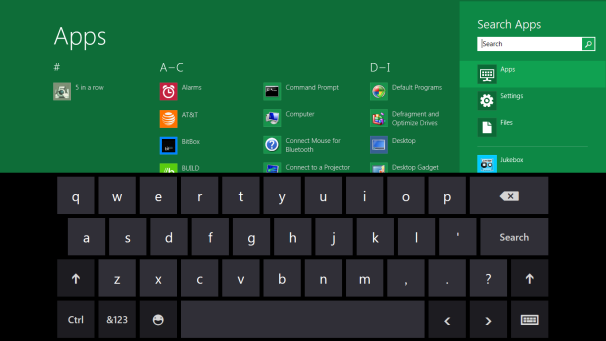 You'll download Metro-style apps from a new Windows Store, built into the OS. Applications have to go through a submission process similar to that for Windows Phone 7 to be listed in the store. Developers control pricing, availability, and limits for trial versions. Applications are verified for stability and compatibility so that users can, as Microsoft puts it, "install applications with confidence." The store will feature a selection of standard desktop applications as well; of course, current install methods for desktop applications will continue to work, too.
New Hardware Support
The Start Screen and Metro-style apps aren't all that is new in Windows 8. Far from it. First, there's support for new hardware, chiefly ARM-based system-on-chip processors. Obviously, tablets running ARM processors won't run legacy applications compiled for x86 or x64 processors, but it seems most Metro-style applications will be built in either C#/XAML or HTML 5/JavaScript. These applications will run seamlessly across ARM, x86, or x64.
Speaking of devices, Windows 8 will bring with it new class drivers for printers, which currently in the pre-beta cover about 70 percent of the printers that support Windows 7. This means that when you plug a printer into your system, it just works–no need to install a driver as you do for Windows 7. You may never have to hunt for printer drivers again. The same goes for USB 3.0 and mobile broadband radios, which get class drivers as well.
Traditional desktop features have not been ignored, though Microsoft has spent most of its time focusing on the Start Screen and Metro-style apps. Windows 8 offers loads of new file-management features and more functionality in Explorer through a Ribbon-style interface. A new Task Manager delivers more information, more clearly, about what is going on with your PC. More options are available for multiple-monitor users, including better handling of the taskbar and the ability to show the Start Screen on one monitor and the desktop on another. A new Reset feature restores your computer to factory-fresh condition. The Refresh feature is similar, but it sets aside all your user data, preferences, and Metro-style apps, wipes clean the underlying operating system, and then puts everything back.
Windows 8 Gets Down to Business
For business and IT departments, features like Reset and Refresh may be enticing, but it's not all they'll get. New security features include a secure boot function that will allow the operating system to boot only from approved and secure hardware devices. Windows Defender has been beefed up to include complete antivirus protection, and it loads far earlier in the boot process to protect the computer through most of the boot-up sequence. Client Hyper-V provides full operating system virtualization services for developers that need to test on various installations. A new Windows To Go feature allows IT managers to run Windows 8, along with their own applications, data, and settings, directly from a USB stick.
All of this merely scratches the surface of the massive upgrade that is Windows 8. In fact, even with all the information pouring out of the BUILD conference, Microsoft assures us that hundreds of features are yet to be revealed. What Microsoft says it's doing with Windows 8 is reimagining the OS. In a word, it's audacious.
We'll have a lot more to say about the changes in Windows 8, large and small, over the course of the week.