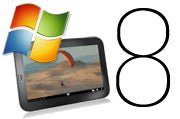 The tablet wars will undoubtedly heat up when Microsoft ships Windows 8 next year. The developer preview of Windows 8–unveiled today at the BUILD Windows conference in Anaheim–underscores how Microsoft's new OS is nothing like what we're used to seeing.
Microsoft finally looks poised to deliver the touch-friendly operating system that the Windows universe has craved for a decade. That said, the company doesn't have a clear sure bet. Microsoft has a host of challenges ahead if it wants to go toe-to-toe with Apple and Google on tablets.
Currently, using Windows on a tablet is very much the same experience as using it on a desktop. Windows is not at all prepared for the navigational challenges of using your fingers to get about. (An add-on software pack doesn't help enough.) The current Windows tablets, including models from Fujitsu, Motion Computing, and ViewSonic, have primarily targeted businesses and markets that require compatibility with existing custom Windows software. But these tablets have had limited appeal to consumers enamored with the stylized, clean interfaces introduced with Apple's iOS and Google's Android mobile operating systems.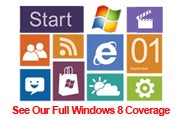 Windows 8 now blows away the distinction between consumer and business tablet, simply by changing the fundamental basics of how we use Windows, and what the Windows front door looks like. No, Dorothy, you're not in Kansas anymore.
It's All About the Interface
Let's face it: One of the things about iOS that caught everyone off guard when it first debuted five years ago was that it looked so fundamentally different than any other computing interface. Using the iPhone, and later, the iPad, was downright fun as you swiped, tapped, and glided your way through navigation and options.
Windows has long lacked a comparative "whiz-bang" factor. Its drab, gray dialog boxes and angular windows have made the OS feel dated for a long time. With Windows 8, Windows gets its whiz-bang back–and does so through touch-friendly design aesthetics that will appeal to mobile-phone-influenced consumer tastes.
At the heart of Windows 8 is the new Start screen, a sophisticated, clean design with a face dominated by large, finger-friendly tiles that practically invite you to touch them. The tiles are in the "Metro" style, first defined in the Windows Phone 7 interface, and those tiles translate well to the tablet.
Swipes, gestures from the edges, seamless movement amongst apps for multitasking, and unified search and contacts–we've seen elements of these before on tablets (yes, I'm looking at you, PlayBook Tablet OS and webOS). But Microsoft appears to have given a lot of thought to the detail, as evidenced by its on-screen keyboard designs (both a standard full-size keyboard and a split-screen keyboard), easy-access reworking of basic Windows navigation, and the placement of the URL bar at the bottom of Internet Explorer 10.
This switch from the normal top-of-screen placement reduces how far your hands will travel, assuming you're holding the tablet from the bottom. FYI: The five core navigation icons–Search, Share, Start, Devices, and Settings–are nicknamed "charms" by Microsoft and slide out of the right side of your screen.
The Windows 8 advantage is that its Start screen looks as if it will be easier to tame and access than the competition's, by virtue of its lack of clutter. By contrast, Google's Android 3.x Honeycomb and Apple's iOS 4.3 home screens each are littered with small icons that you have to process in two steps–once to identify the visual graphic, and again to read the description below. Multitasking in Windows 8 appears to be superfast, although it could get tricky to land where you want, since you're actually passing through each open app as you swipe among them. Sharing has been simplified, to the point that Microsoft says two apps that aren't even familiar with one another can share between them. And you'll have two pane views–something you don't get with either Android or iOS–so you can have two activities going at once; for example, an RSS feeder in a narrower pane to complement your full-frame e-mail app.
Lots of features weren't on the preview device we got a look at; but the demos made the Mail, Calendar, and Pictures appear as if they are competitive with, or go beyond, what Apple and Google offer.
We saw rough spots in this early version of Windows 8. The experience I had is by no means seamless. For instance, shifting among standard "desktop" apps and the next-generation "Metro"-style apps is particularly jarring because of the vastly different aesthetics, and the contrast between old and new is striking.
Furthermore, we don't know a whole lot yet about how Windows 8 will act on an ARM-based tablet; Microsoft didn't reveal much in its preview, beyond saying that ARM-processor-equipped tablets will run the Metro-style apps, which will be optimized to take advantage of Windows 8's features, such as its power management capabilities (Metro is the name of the user interface found in Windows phones). However, what's been shown in previews makes Windows 8 look very promising. Microsoft appears to be on the right track.
Next: Windows 8 Challenges
The Unity Factor
Really, though, there's little question about the potential for Windows 8 on tablets. A majority of Microsoft's big unveiling to the media yesterday prior to the start of the BUILD conference was dedicated to showing how Windows 8 worked on a tablet. Microsoft used those demos to represent of how Windows 8 would behave as a whole. That in and of itself is a clear indicator of how serious Microsoft is about creating a scalable operating system that works the same on devices of different shapes and sizes.
(See related story: Windows 8 Breaks Down the OS Walls That Divide Our Devices)
The scalability of Windows 8 is compelling to think of in terms of the possibility of unity across your tablet, laptop, and PC environments. But add in the ability to sync settings and preferences across systems, as you'll be able to do with Windows 8's cloud services, and Windows 8 makes even more of a case for itself.
The interoperability angle remains equally compelling. By retaining that interoperability with the vast Windows universe of apps, Windows 8 tablets will have an advantage. In yesterday's demonstrations, Adobe Photoshop CS5.5 opened and ran fine, a finger's flick away from the stylish new Metro-style Start screen tiles. I downloaded other personal favorite Windows 7 apps, and was able to run them on the demo tablet, albeit inside the "desktop" app. In the end, the idea of sharing elements like preferences, settings, and interface–coupled with the idea of sharing apps across any size device–is a pleasant change of pace. It's good to lose that feeling of "oh, my app works only on Android/iOS, but not on my primary computer."
Windows 8 Challenges
Can Microsoft compete with Apple and Google as a mobile OS? Absolutely. After seeing Windows 8, I'm thinking of Windows Phone 7 as more of a dry run for Windows 8 than as only a mobile OS.
However, the challenges ahead loom large. Not only does Microsoft have a fair bit of clean-up to do to polish up the navigation and experience of using Windows 8 on a tablet, but it has to clearly set expectations for what ARM-based tablets will be able to do when compared with Android tablets running Intel processors.
Microsoft also has to get developers ramped up to design Metro-style apps. These apps don't exist today, but can be created fairly easily using the developer tools and languages that the Microsoft developer community is already used to.
Microsoft is smart to support existing tools like XAML, C, C++, C#, and Visual Basic, as well as HTML5, CSS, and JavaScript. But the company is going to face the task of getting developers to concentrate efforts on its very new Metro-style app interface, especially in this fractured development environment where so many languages and platforms are vying for developers' attention.
Getting a critical mass of apps for the forthcoming Windows Store will be crucial; Microsoft doesn't want to follow in the shoes of Android Honeycomb, RIM's PlayBook Tablet OS, and webOS. Each had an anemic selection of apps at launch, and each has struggled to add to their libraries since.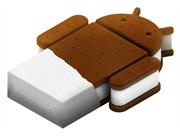 Meanwhile, the competition will have had opportunities to beef up for the Windows onslaught, too. By the time Windows 8 comes out (the timing has not been announced), Apple will have released iOS 5, and at that date, it may have already announced what to expect from iOS 6. Google will have long since unveiled and shipped its Ice Cream Sandwich iteration of Android OS; that version is intended to unify the now-fragmented phone and tablet versions of Android. As promising as Windows 8 looks today, the warp-speed pace of mobile development means that six months from now, Windows-based tablets could be at a disadvantage vis-a-vis Android and iOS.
The bottom line is that Microsoft has to continue to innovate on its touch interface, and work through that interface's rough spots (yes, they're there). But Windows 8 looks primed to bring Windows along into the touch age. I just wish Windows was ready to compete with Android and iOS today.