Microsoft's upcoming Windows 8 OS running on ARM prototype tablets and other devices will be open for developer scrutiny at the software giant's Build conference this week.
Qualcomm and Nvidia plan to show Windows 8 running on prototype devices at the conference in Anaheim, California, opening Tuesday. This will be the first time Windows 8 will be shown on ARM-based devices in demonstrations not given by Microsoft.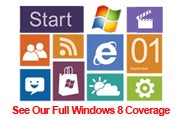 Nvidia will show Windows 8 on its tablet running on upcoming quad-core Tegra chips code-named Kal El, said Rene Haas, the general manager of Nvidia's notebook division. Qualcomm will show prototype devices running on its Snapdragon processors, which are based on the ARM architecture.
Nvidia and Qualcomm license ARM architecture, and will highlight different features of Windows 8 in demonstrations. Nvidia will demonstrate video applications, the Windows 8 user interface and applications built using HTML5 and CSS, Haas said. The demonstration will focus on the touch-sensitive and Web-driven tablet interface of Windows 8, Haas said. Microsoft previously showed Microsoft Word in Windows 8 on PCs running on Kal-El at the Computex trade show in June.
Qualcomm will likely focus on 3G/4G multimode wireless communications and capabilities. In a statement, the chip maker said that Microsoft would demonstrate an early developer preview of Windows 8-based prototype PCs with Snapdragon processors and Gobi wireless chip connectivity.
Microsoft in January said that support for Windows 8 would extend beyond x86 to ARM processors, which are found in most tablets and smartphones. Windows 7 supports only x86 architecture. So far, Windows 8 on ARM demonstrations have been simulated, raising questions about how the OS will work in actual ARM-based tablets and PCs.
Microsoft is working with Nvidia, Qualcomm and Texas Instruments to bring Windows 8 to ARM. The chip makers have been engineering chips to meet basic hardware requirements set by Microsoft, such as CPUs with clock speeds of more than 1GHz and hardware-accelerated graphics. Texas Instruments and Nvidia have also built on-chip support for DirectX, a set of Microsoft development tools that brings more realistic graphics to Windows. Qualcomm is tuning Windows 8 to take advantage of its chip.
Microsoft plans to share more hardware and software details for Windows 8 at the conference. Nvidia and Qualcomm will also try to drum up developer support for Windows 8 at the conference. A Texas Instruments official said the company will be at the show, but did not provide further details.
To counter ARM, Intel will show Windows 8 running on its x86 tablets and lightweight laptops at Build.